Best BaaS – Backend as a Service 2021
App development projects require proper planning and attention to detail to be successful, especially when choosing a backend service for your app development project. However, the procedure for selecting the right platform can be overwhelming since there are several options in the market.  
In case you are searching for the best backend service in 2021, this article will help you navigate the best options.  First, let's look at vital points to consider while planning to create a mobile app.
Points to Consider Before Creating a Mobile App
First of all, developers need to determine a mobile app's structure and features before the project begins. This information would help the development team choose the right backend for the development project.
It is common to see developers recommend various platforms as the best option for creating mobile apps. However, their recommendations are based on personal experience without testing other options in the market.
A closer look at each platform's features and the price will give you a broad overview of what each backend platform offers. In any case, an excellent backend platform should handle business logic, do calculations, and manage application performance, among other features. 
Mobile App Industry is Highly Competitive
The mobile app industry is highly competitive, and you should expect more challenging competition in 2021. That is why many developers and businesses are researching for the best backend service in 2021 because it would give them a competitive advantage. An excellent Backend as a Service should help developers create apps faster and more efficiently.
The following list reviews the leading platforms for creating mobile apps in 2021. Factors considered while making this list include user reviews, the platform features, and the pricing structure. Keep on reading to discover the best reliable backend as a service platforms in 2021.
Best backend as a service in 2021
These are the best BaaS services in 2021.
BaaS Provider
Core Features
Pricing Information
Back4pp
– SQL and NoSQL Database
– GraphQL and REST APIs
– Notifications
– Authentication
– Storage
Free for development.
Production plans start at $5/month.
Parse
– Realtime Database
– APIs
– Push-Notifications
– Social Integration
– Storage
Free to download and host anywhere.
Firebase
– Realtime Database
– Scalable hosting
– Analytics
– Crashing report
– Storage
Free tier.
Paid plans under the Pay as you go model.
Kinvey
– Microservices
– Scalable hosting
– Storage
– Enterprise integrations
– Serverless
Free trial.
Paid plans starting at 2,500 per year.
Amplify
– Graphql and REST APIs
– Analytics
– Storage
– Authentication
– Notifications
Free tier.
Paid plans under the Pay as you go model.
Want to know more? Please checkout a detailed evaluation below:
Back4App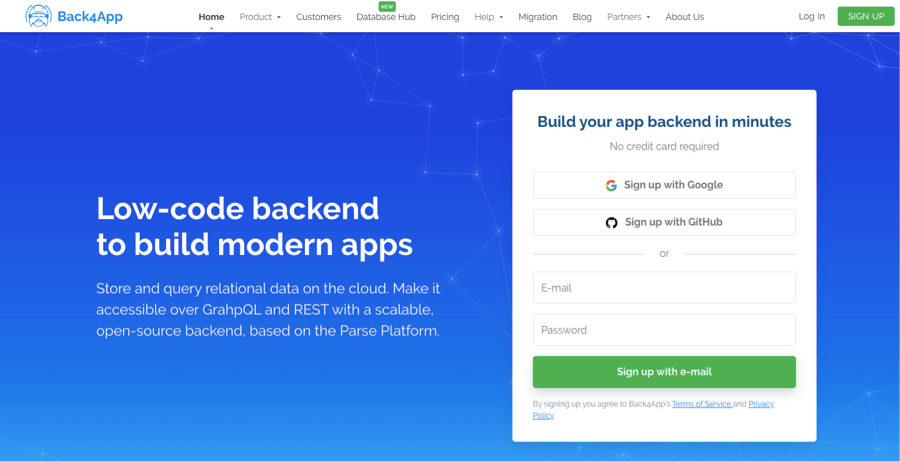 Back4pp is one of the most dominant backend services going into 2021. It offers developers an intuitive dashboard for managing app deployment and management. Some of the features on this platform include LiveQuery, Geoqueries, realtime databases, apps multitenancy, version control, free plan, and much more.
This backend service also offers a powerful autoscaling feature that keeps your app functioning optimally at peak periods. Back4apps also has a community of active developers that offers valuable information, guides, and tutorials that help you use the platform without hassles.
All these features make it one of the best backends as a service platform in 2021. It is highly reliable and offers valuable services for app development and hosting.
Features
Pricing
– Scalable backend
– Managed infrastructure
– SQL database
– APIs
– Authentication
Free to start
Plans beginning at $5/month
Parse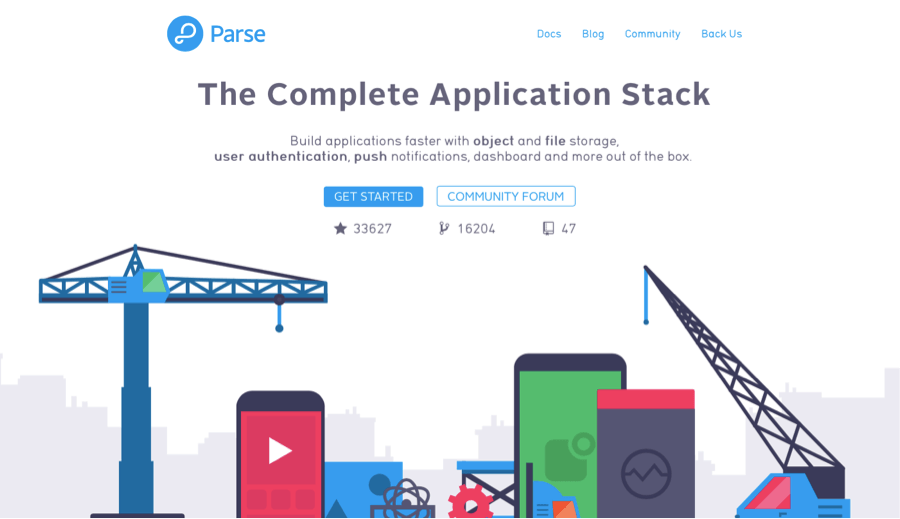 Parse is a powerful open-source backend for mobile app development.  It helps developers create top-notch apps without having expertise in backend development.
Parse features include background tasks, analytics, push notifications, webhooks, mails, and much more. Parse also provides a useful dashboard for managing apps. The platform has a large developer community willing to help new developers get up and running on the platform.  
This is one of the top Backend as a Service to consider in 2021.
Features
Pricing
– Open-Source
– Database like a spreadsheet
– APIs
– Authentication
– Notifications
Free to download
Firebase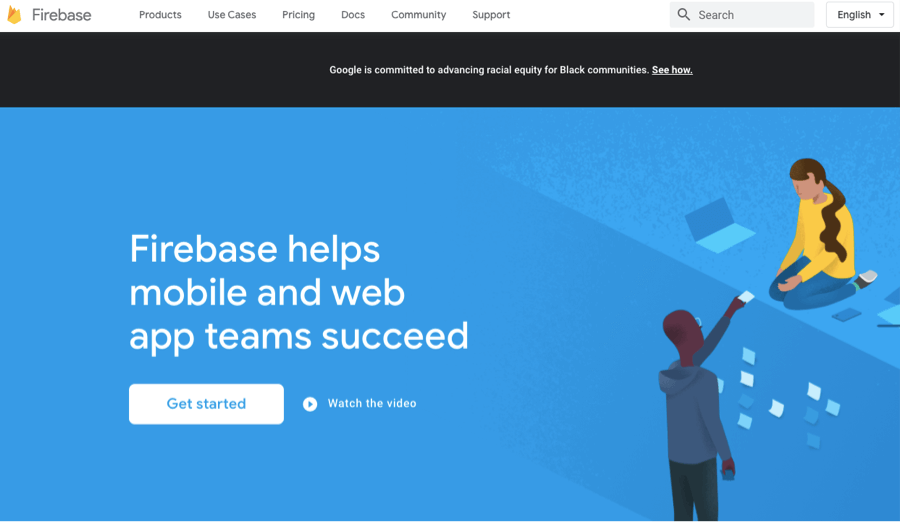 Firebase is a Google-owned project that offers developers powerful functions for developing and hosting mobile applications.  Some of the features of Firebase include realtime database, crash reporting test lab, and cloud storage.
The users of Firebase rate it high in performance and scalability.  The platform offers a free plan that helps you get acquainted with the backend platform. 
Features
Pricing
– NoSQL databases
– Scalable
– ML
– Analytics
– Storage
Free tier
Usage-based pricing
Kinvey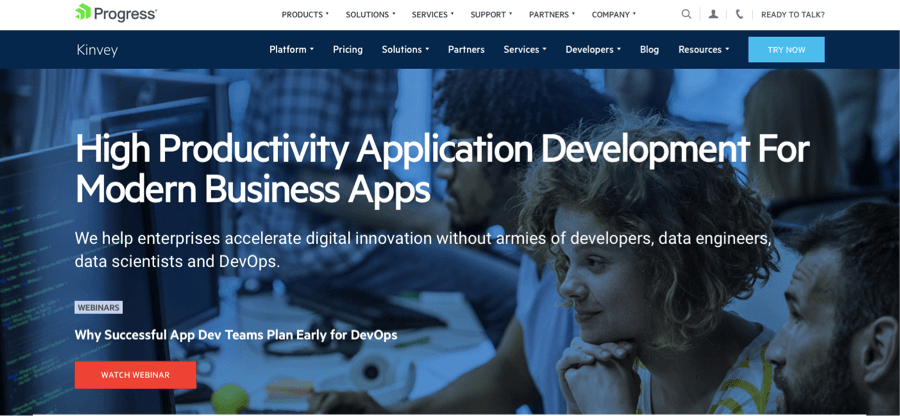 Kinvey is another excellent backend service for app development and hosting in 2021.  it is an enterprise-ready platform that offers cloud-native services,  a catalog of beautiful app templates, analytics, and other functions that enhance app development procedures. It is an excellent option to consider for business and enterprise app development projects. 
Features
Pricing
– Enterprise ready
– Serverless backend
– Microservices
Free trial
Starts at $2500 per year
AWS Amplify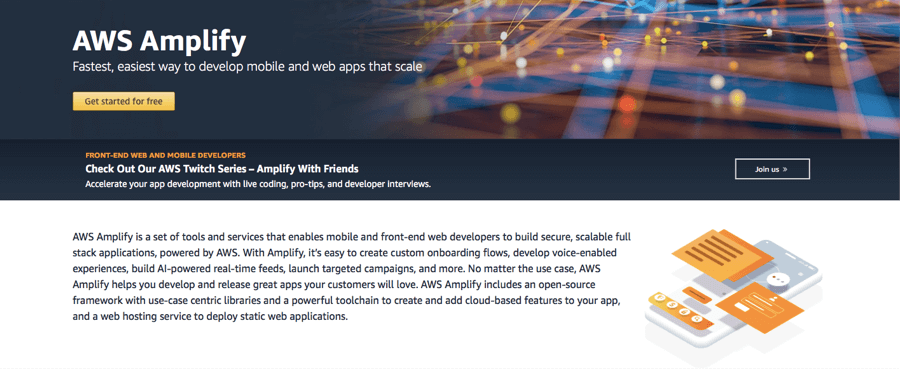 Amplify is an Amazon service that makes the list of the top backend platforms. AWS is known to power some of the most successful apps globally, such as Periscope, Airbnb, and Netflix.   
It offers developers cloud storage, device farm, authentication, and many other useful functions. The fact that this platform is backed by Amazon gives us the impression that it will be around for a long time. 
Amplify offers a free plan which can be upgraded to the premium plan once the app starts to scale.
Features
Pricing
– GraphQL API
– Analytics
– Integration with other AWS services
Free to start
Usage-based pricing
How to Select the Right Option
One of the yardsticks for selecting the right backend service is to consider the features your app needs. The features an ideal backend platform should offer include:
Scalability
Security
API console
Email notifications
Intuitive interface
User authentication
Push notification, and
Community feedback
Although the list above is not exhaustive, it serves as an essential checklist for selecting a backend platform for your app development.
Apps You Can Create With BaaS
The following are applications that you can create and host with BaaS platforms
Mobile commerce
IoT apps
Messaging applications
Games
GPS based applications
Any of the platforms above can help you expedite app development and also host the app without hassles. However, you should look at the comprehensive features to be sure the platform would support your app development objectives.
FAQ
What is a Backend as a Service?
It's a cloud service model that provides ready to use building blocks to create a backend and delivers scalable infrastructure.
How to select a BaaS option?
– Scalability
– Open Source vs. Proprietary
– Security
What are the best BaaS in 2021?
– Back4app
– Parse
– Firebase
– Kinvey
– AWS Amplify