The Top 5 Free Real-Time Databases
Real-time databases are important prerequisites for the development, deployment, and management of cutting-edge applications. Developers and business owners alike rely on these databases' functionality is crucial for many real-life applications.
While there are many premium real-time databases worth looking at, the free ones out there are also quite powerful. Your business can save costs and achieve its intended development outcomes with the right one. Read on to discover the top free real-time databases below.
What is a Realtime Database?
A real-time database refers to a database setup that relies on real-time processing for managing workloads with constantly changing states. It is different from a conventional database that is usually tasked with persistent data handling without being affected by time.
One real-world example of a real-time database is a stock market display that updates based on time-specific changes. It is seen in different global stock exchanges where real-time processing is necessary for making business decisions.
Real-time databases can be utilized for various use cases such as medical records, accounting, law, process control, data analysis, multimedia, and reservation systems.
Real-time databases are fundamentally conventional databases that rely on an extension for facilitating fast and instantaneous responses. These databases rely on time limits to the function, with data becoming valid for specified value ranges.
Unlike real-time databases, other conventional databases do not work with temporal validity as they deal with real-life elements rather than data on a system. Most real-time setups can handle time-specific queries, return valid data, and provide support for instantaneous scheduling.
In real-time databases, the physical system state is monitored by an input device, and the database gets updated with the latest information. Creating a robust real-time database requires developers to consider how valid time will be displayed in accordance with a real-time system.
Real-time database developers should also consider how values are to be represented for ensuring error-free transaction processing and consistency
Real-time database systems should also be capable of handling the eventualities of taking the right action when time deadlines are not met.
Going back to a real-life example, an air-traffic-control system performs instant monitoring of aircraft data and makes flight plan decisions. Real-time databases are also used for determining how planes should land based on data like speed, fuel and altitude.

Real-time database service providers offer a wide range of features and functionalities for the development needs of users. Currently, there are many database companies to consider for the average user. But, what are the key advantages of using real-time databases? Read on to discover.
Advantages of a Realtime Database
Communications – A real-time database facilitates effortless real-time interactions between systems and users. Delay in communications is considered as a breakdown or malfunction.

Collaborative experiences – A real-time database provides a setup that lets users work together on projects. In such use cases, changes after the stipulated time or the lack of change can waste time and result in duplication.

Real-time user experiences (UX) – Real-time databases are integral for facilitating effective real-time user experiences. This is particularly applicable to scenarios where an action should result in getting feedback, such as mobile application button clicks, real-time chatting and more.

Offline Synchronization – A real-time database also allows users to perform swift offline synchronization. This functionality is provided through features such as data saving on local disks. Any changes made when the server was offline get synchronized with a server's current state when it is back online again.

Splitting and scaling data – Real-time database lets users split available data and partition to different project databases. Database instances can also get established tiles.

Multiple device access – Users of a real-time database can gain access to application data from different interfaces and devices across web and mobile platforms. It is one of the most important benefits of opting for a real-time database.

Affordable options – Business owners and developers have access to various free and affordable real-time database options. Developers can easily opt for one of the many flexible pricing plans, where they pay for the downloaded or stored data amounts and number of connections.
The best five free real-time databases
These are the best services you can starting hosting your app for free.
1. Back4app
Back4App is one of the most widely-used open-source and free real-time databases out there. It is known for its remarkable ease-of-use and the level of scalability it offers to users.
Back4App is a reliable option for fast and efficient development, management, and hosting of applications. It is a top choice for hosting web, mobile, and Internet of Things applications.
With this platform, users can easily create, update and synchronize data efficiently. Users of Back4App have the option of utilizing both GraphQL and REST APIs. The live queries feature enables users to rely on queries for performing real-time data syncing and storage.
2. Firebase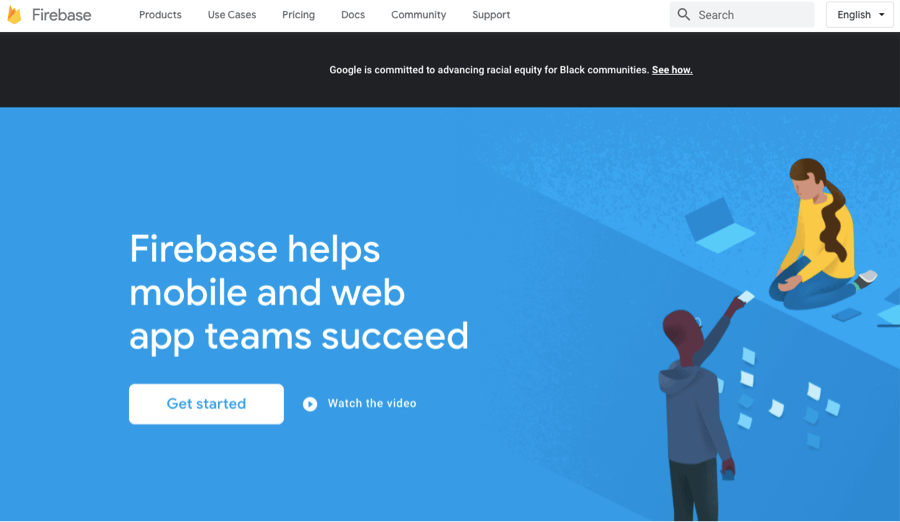 Firebase is a feature-rich backend as a service offering with various API and backend offerings. It is a popular NoSQL database that relies on the JSON protocol for data storage purposes.
Firebase is known for the usability and easy access to powerful features it offers. Developers relying on this real-time database can get complete freedom from the needs of performing API creation and server management.
Users can also access several useful customization options for their backends. A real-time database is a Firebase offering that gives users the option for real-time data storage and synchronization.
Users can access their database even when the application has gone offline. Firebase lets developers store data in JSON and sync across different clients.
3. SapphireDb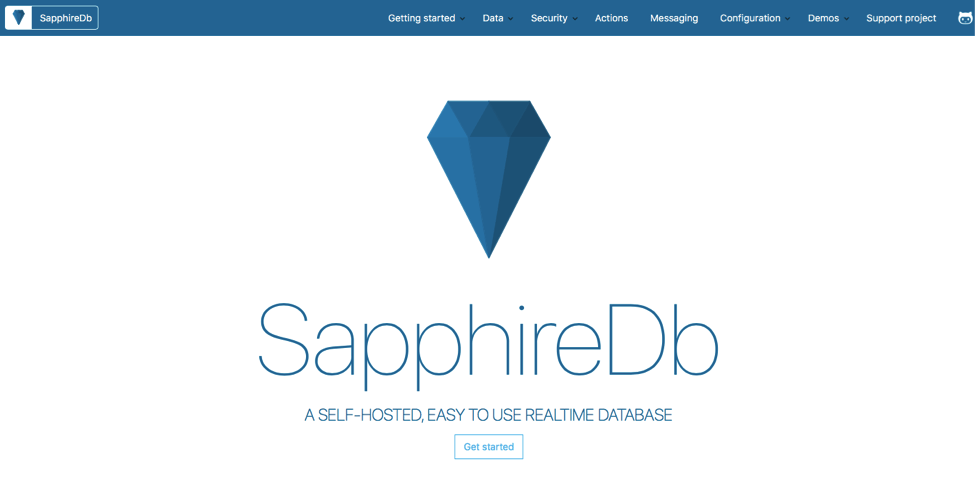 SapphireDb is an open-source ASP.Net Core and EF Core real-time database. It enables users to rely on generic APIs across multiple clients for effortless application development and real-time synchronization.
SapphireDb is self-hosted and provides support for a wide variety of technologies. It has an API and is created on technologies like Entity Framework Core and Websockets. Users have access to reactive programming with this database.
4. Parse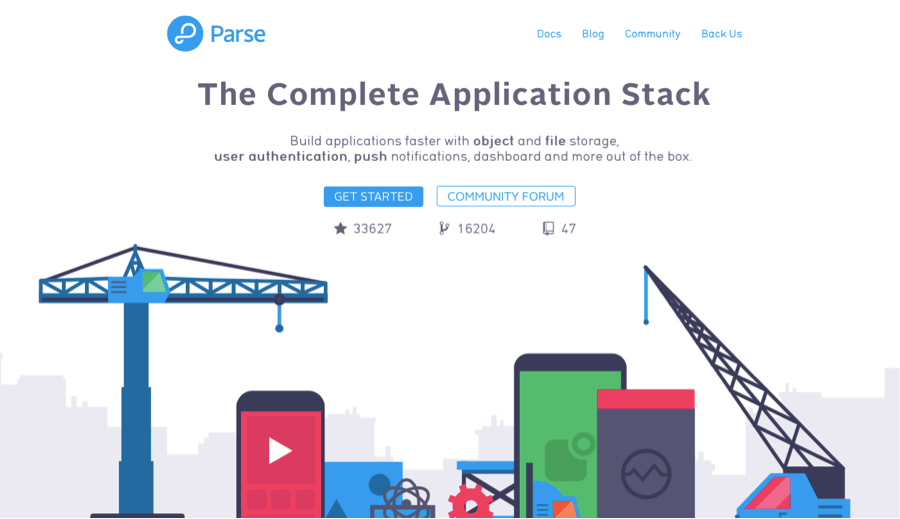 Parse is a database that can be utilized for developing conventional mobile, web, and Internet of Things applications. It is widely relied upon for the development of Android and iOS applications.
Parse currently offers support for a vast array of frontend technologies like React Native, Java, Xamarin, Swift, and Ionic. It offers various benefits for users with respect to productivity improvements during development.
Parse gives users the option of automating frequently performed tasks, including mundane activities such as API development, data modeling, real-time push notifications, mobile SDK integrations, API exposure, and more.
Parse enables users to focus on their most critical activities and cut down on boilerplate coding time.
5. RethinkDB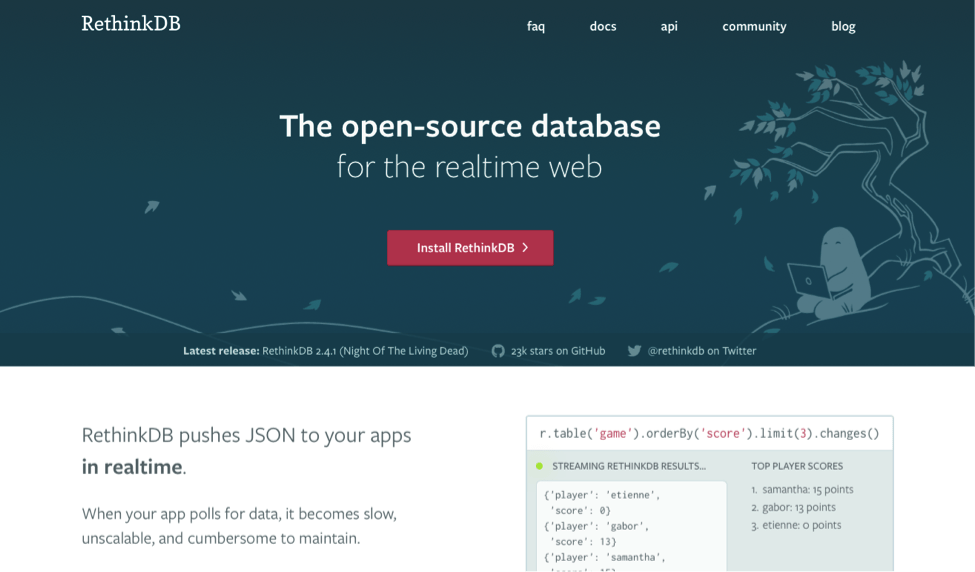 RethinkDB is a free and open-source document database that meets the needs of most developers. It helps users perform efficient JSON-based data storage by giving them access to dynamic schemas. RethinkDB is used for launching real-time updates for application query results.
Originally funded by Y Combinator back in 2009, the company declared in 2016 that the RethinkDB products would be offered as an open-source suite for developers.
Even if the company stopped supporting the project, the CNCF (Cloud Native Computing Foundation) took it over. CNCF purchased the RethinkDB source code and put it to use on Linux.
Conclusion
The free, open-source real-time database options given above are all worth looking at. Users get access to a vast range of functionality and features required for creating real-time applications. Comparing what each database offers can be a good starting point for fulfilling your development requirements.
FAQ
What is a realtime database?
A real-time database refers to a database setup that relies on real-time processing for managing workloads with constantly changing states.
What are the advantages of a realtime database?
– Realtime experiences
– Better communication
– Offline synchronization
What are the best free realtime databases?
– Back4app
– Firebase
– Parse
– Sapphire DB
– Rethink DB