The Best Game Sparks Alternatives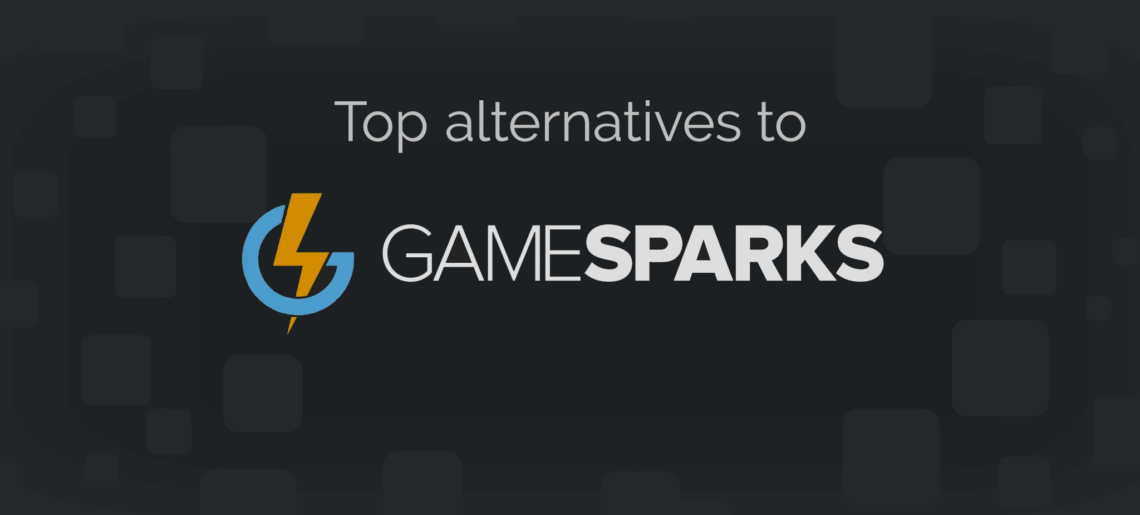 While to some people, games are the only source of fun, games can be the future of the business world because of the technological advancements today.
With everything like Crypto, Metaverse, and NFTs being related to games and the gaming world, many brands and companies are already investing in Games. So, game development is a hot topic for today's world and most probably for the future.
It means that the game development industry will have a lot of advancement in the coming years. Well, developing games takes a long time because you need the Backend to be perfect by all means. If you start developing some game from scratch, it may take so long that things get inefficient. The better way is to use some platform that allows you to develop games easily.
GameSparks is an amazing option that you can go for, but there are several other options available that you can use. These options bring amazing value if GameSparks does not fulfill all your requirements and needs. So, here we will be discussing GameSparks and the best 5 alternatives to it.
An insight into what is GameSparks?
Developing games is fun, but it is not that fun when scaling the backend. A little error can make the whole game unplayable. So, instead of developing things right from scratch, you can use GameSparks, which is the best and the easiest way to develop game backends.
Here you can take your frontend and connect with the Backend created with GameSparks, which will be easy to deploy as well as scale according to the needs of your game.
GameSparks Features
GameSparks surely brings a lot of features for its users, ensuring the best experience during game Backend development and after deployment. Some of those features include:
Multiplayer options with Social connectivity
Economics management
Scalability
Flexibility
PaaS
Custom Backoffice
Player management options
Analytics in-game
Marketing automation
Live events in games
GameSparks Shutdown Overview
GameSparks will shut down and start as a new service available as Amazon GameSparks. However, this version of GameSparks is still available for users till September 2022.
This time has been provided to make it easy for the developers to transition their games to the newer Amazon GameSparks. Although time till September is available for game transitioning, the publishing new games facility will stop on March 30th, 2022.
GameSparks Migration Overview
Now that you know that GameSparks will soon shut down and convert into AWS GameSparks, it is better to know about the migration stuff. Generally, migrating the Backend from one platform to another is considered pretty hard. However, things have been made easier here. There are three different resources available, including the following:
Transition documentation is a library of documentation that can help you if you are looking to do the migration process manually
Consultation support from AWS consulting partners is also available, which will make the whole migration process very simple and easy for you.
Data Export API can be used to extract all of your data, and details about this API are also available in the documentation.
Top 5 Alternatives to GameSparks
While GameSparks provides some amazing features, it may not be the perfect choice for some people. So, the following are the best alternatives that you can use instead of GameSparks.
Back4App is one of the most popular names for back-end development platforms. It brings the option to develop an open-source backend for your games.
The SDKs and APIs support make things easy, simple, and functional for every developer. Using Back4App, you can build your relational data model within minutes, which will significantly fasten your development speed.
Features:
Access control features are available
Supports mobile development
No-Code backend development makes the whole thing easy and simple
Deployment management ensures that your games are launched in the market the way you want
Pricing:
The free version is available
The paid packages start at $4.99 per month
If you are looking to develop a game Backend for your games with almost all of the basic features and need quick development tools, then this is your way to go.
It can help develop the most compatible Backend solutions with your games because it comes with newer releases frequently and is tested for better compatibility.
Moreover, the SDKs here are available for all major devices and operating platforms.
Features:
Quick application development with file storage and object storage
Adding or migrating to existing application Backends is easier
Comes with an amazing dashboard with easy to use interface
Supports all the features like notifications and well authentication
Pricing:
The free version is available
The paid packages start at $4.99 per month
Firebase is the third number on our list, and it is among the most popular platforms that you can use to develop a feature-rich Backend for your applications and games. Google provides Firebase, so reliability and security are not the issues you need to be worrying about.
With pre-packages that you just need to install and create an open-source Backend, your game development experience will be better than ever using Firebase.
Features:
Mobile notification features available
Provides analytics
You can use the device targeting feature if you want to
Campaign segmentation helps keep campaigns efficient
Pricing:
The free version is available
The paid packages start at $24.99 per month
Next up on the list is PlayFab. It is one of the most powerful Backend development platforms available in the gaming industry. It brings a long list of features with everything presented in a very easy-to-use interface, making things extremely easy and simple for you being a developer. If you are going to develop a Backend for a multiplayer game, this might be the right option.
There is a lot more than PlayFab provides, including insights into performance issues, connecting with players from different platforms.
Features:
It provides Software as a Service
Works for Windows, iPhone, and Android games
Scalability
Multiplayer servers and a lot more
Pricing:
The free version is available
The paid packages start at $99 per month
The trial is also available for free
The last option that we have here for you also comes from Amazon. Open 3D Engine (O3DE) provides you the training opportunities with its amazingly designed documentation so that you can easily develop feature-rich games using it. 3D and other amazing features are available here.
Moreover, things like Virtual Reality gaming, animation, and other things are available, all with drag and drop development functionality. It also provides amazing online support with its Windows-based software.
Features:
IT asset management
3D development
Easy visual development
Pricing:
It is free to use entirely
All the above 5 alternatives can work in a good way. Each one has something unique in it which you can know from above.
Final Remarks
Game development and gaming can be the future of this world, so you need to find the right ways into it for a secure future. Developing games from scratch can never be a good choice in this fast-paced world, so you need to look out for something quick. GameSparks provides the perfect options for fast-paced game Backend development with amazing features.
However, there are still chances that it is not the perfect option. So, you can instead go for the alternatives that bring better features. Make sure to check all your requirements before so that you can get the best experience from the platform you choose.
General FAQ
What is GameSparks?
GameSparks is a backend as a service special designed to meet the need of game developers.
What are the best alternatives to GameSparks?
– Back4app
– Parse
– Firebase
– PlayFab
– Open 3D Engine (O3DE)