Top 5 Real Time Databases Open Source
Real-time databases are among the top requirements for businesses that rely on agile and high-performance applications. A dependable real-time database is instrumental for ensuring that end-users get access to uninterrupted and hassle-free functionality.
One can opt for proprietary or open-source real-time databases to fulfill their requirements. Many developers and businesses are now relying on open-source databases for added functionality and flexibility. It can prove to be advantageous in the long run.
Read on to know more about real-time databases, why they're beneficial and also discover the best options available today.
What is a Realtime Database?
A real-time database is a database that functions as a data processing system for handling continual flows of traffic, workloads, and updates. This type of database can instantly process real-time transaction information, facilitating speedy updates once information has been received.
A real-time database allows users to take fast action by observing instant information updates. Some examples of real-time applications that rely on this database include online counters, industrial control systems, data access apps, and multimedia systems.
Real-time databases' typical applications include air traffic control, online bidding, shipping tracking, reservation, and banking systems. These are all applications where the availability of real-time data is critical for carrying out real-world functions.
Some systems have single-type real-time transactions, while others have multiple transactions.
Advantages of using Open-Source software
Flexible – Using open-source software is beneficial for your business and its offerings. Open-source technology enables businesses to be more flexible with their software tools and source code. Developers can effortlessly edit source code based on their applications' specific requirements and perform instant changes when those requirements change. There are many opportunities for easy and hassle-free customization, security patch installation, performing framework management, and improving performance.
Flexible cloud deployments – Open-source frameworks are also better for businesses that intend to deploy across different cloud services. Companies are not tied down to using a single cloud provider like with proprietary frameworks.
Transparency – Using an open-source database is also recommended for businesses that want to understand all framework functions better. Moreover, open-source frameworks allow users to gain easy access to information related to bug fixes and improvements. The high level of transparency offered by these frameworks makes them quite valuable to emerging business owners.
Security – Many business owners and developers find open-source frameworks to be quite secure. Every new open-source framework development brings new security features and fixes that business owners can start experiencing. Frequent security updates are rolled out to enhance the level of protection your apps and data get.
Reliability – The high level of reliability provided through open-source databases is quite favorable for business owners. Many open-source offerings are backed by active communities of users who continually roll out new updates and bug-fixing patches. Others often solve problems before they can even affect your workflow.
Freedom from lock-in – Developers worldwide are now opting for open-source frameworks as they prefer not to be locked in by vendors. Vendor lock-in is one of the biggest issues faced by businesses and developers alike, as they become restricted to providers' limits. Redevelopment can also be an expensive proposition for businesses affected by this type of limitation.
Reduced costs – Open-source products generally have lower costs compared to their proprietary counterparts. It is one of the biggest motivations to opt for open-source frameworks. Most reliable proprietary offerings come from companies that have to charge users to maintain sustainability. Conversely, an open-source service is generally created by developers and supported by others in developer communities.
Better intellectual property practices – Intellectual property guidelines of proprietary real-time database providers are not as flexible as that of open-source offerings. Most open-source licenses now allow the free use and modification of source code, making it easier for businesses to achieve tailor-made outcomes. However, it is important to read the details of the open-source licenses to understand any possible limitations.
The top five real time databases that are open-source
Here is a list with the best options.
Back4app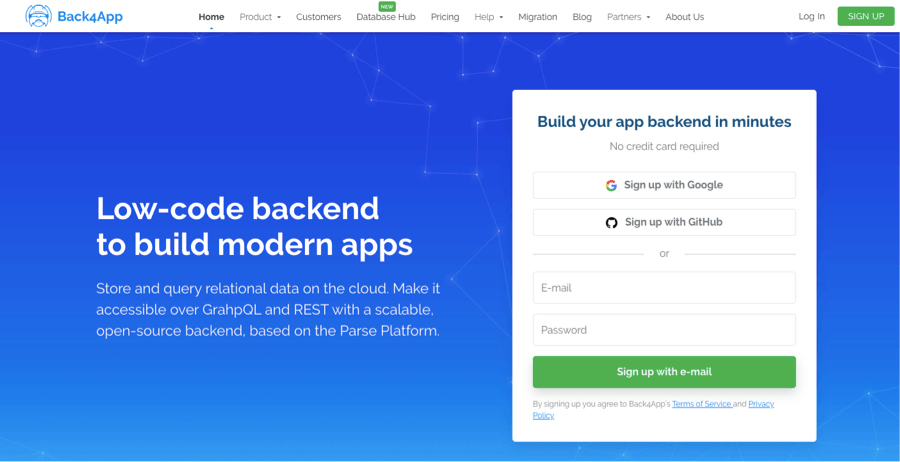 Back4App is one of the most reliable open-source real-time databases. It is based on an open-source framework and comes with a robust set of features for developers.
Back4App facilitates easy and hassle-free development, management, and hosting of applications and is preferred by businesses worldwide. It is a popular option for hosting web, mobile, and IoT applications.
Developers gain access to a database through application data creation, syncing, update, and take advantage of both GraphQL and REST APIs. Live query is a feature that enables developers to user queries for performing real-time data synchronization and storage.
RethinkDB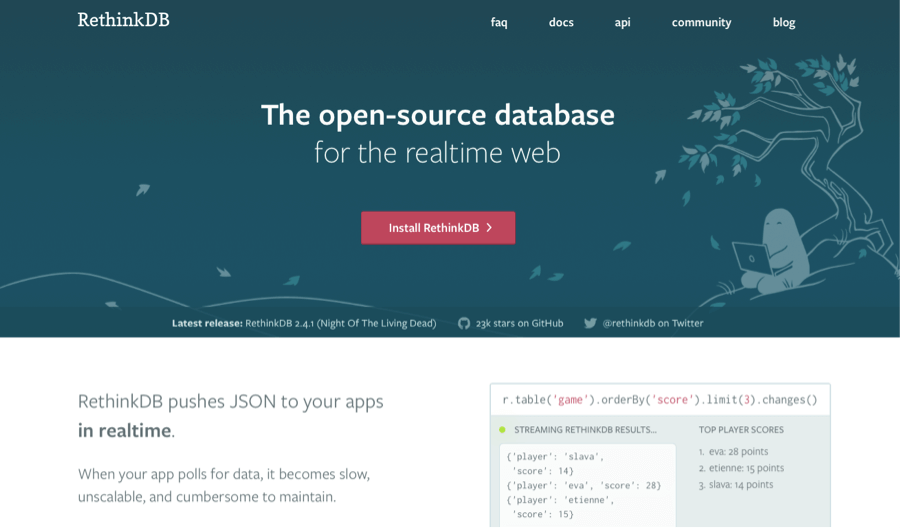 RethinkDB is an open-source and free document-based database that developers can opt for. It enables the efficient storage of JSON documents by letting users take advantage of dynamic schemas. RethinkDB can be used for rolling out real-time updates for app query results.
Y Combinator originally funded the database in 2009, and in 2016 the company announced that the suite of RethinkDB products would become open-source. The company would drop support for it, after which it was picked up by the CNCF (Cloud Native Computing Foundation). The CNCF bought the rights to RethinkDB's source code and used it for Linux.
Parse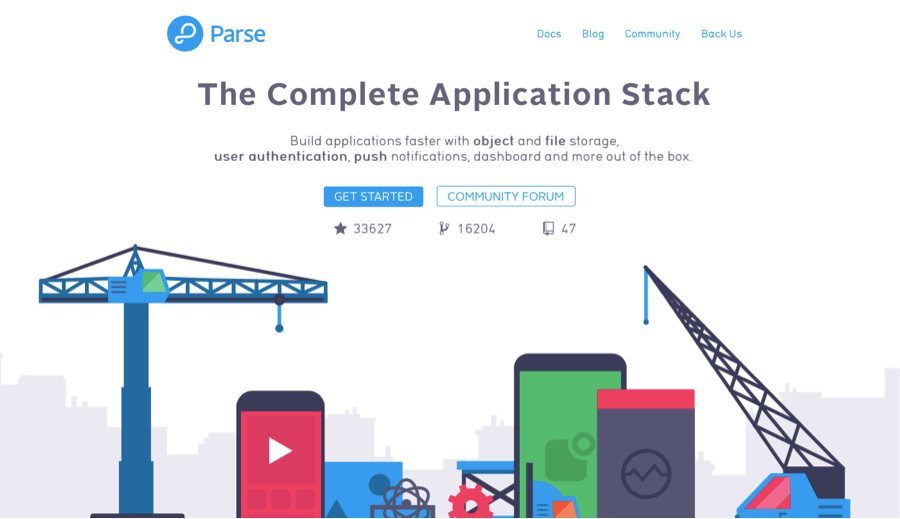 Parse is a leading open-source real-time database for developing applications that run on the web, mobile devices, and Internet of Things setups.
The Parse application frame is used for the creation of iOS and Android applications. It currently offers support for several popular frontend technologies such as Xamarin, Java, React Native, Ionic, Swift, and more.
Parse is a favorite for many developers who create content management systems, social media applications, restaurant applications, emergency service applications, and real-time message applications. It offers various powerful tools and features for the needs of developers.
SapphireDb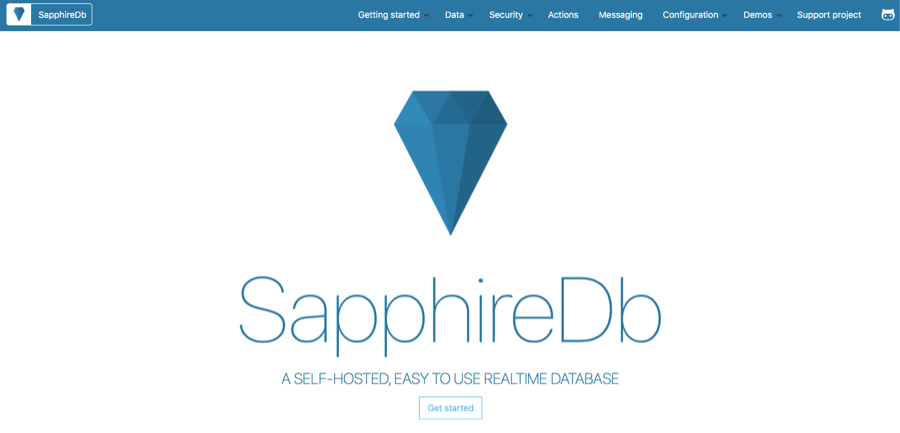 SapphireDb is a real-time database for EF Core and ASP.Net Core. With this open-source framework, users can take advantage of generic APIs that can be used with multiple clients to perform hassle-free app creation and real-time data syncing.
SapphireDb is a self-hosted service that offers support for a significant number of technologies. It also comes with a convenient API and is built atop cutting-edge technologies such as WebSockets, Entity Framework Core, and uses programming options like reactive programming.
Redis

Redis is a BSD licensed open-source data structure resource that can be utilized as a cache, database, and message broker. It comes with a variety of data structures, including lists, strings, sets, sets with range queries, hyperlogdogs, bitmaps, hashes, streams, and geospatial indexes.
Redis also comes with several features such as Lua scripting, transactions, built-in replication, multiple levels of on-disk persistence, LRU eviction, and more. Users get high availability through Redis Sentinel and use Redis Cluster for auto-partitioning.
Redis is based on ANSI C and functions within POSIX systems such as OS X and Linux without any dependencies. Redis is tested and developed the most with the OS X and Linux operating systems and works on Solaris systems such as SmartOS.
Conclusion
The open-source real-time databases mentioned above are all worthy of consideration. They offer all the features and functionality needed for developing feature-rich real-time apps. Compare the features and make the right decision for your business.
FAQ
What is a realtime database?
A real-time database is a database that functions as a data processing system for handling continual flows of traffic, workloads, and updates. This type of database can instantly process real-time transaction information, facilitating speedy updates once information has been received.
What are the open-source advantages?
– Flexibility
– Transparency
– Security
– No vendor lock-in
– Reduced costs
What the best open-source realtime databases?
– Back4app
– Rethink DB
– Saphire DB
– Parse
– Redis