What is a Mobile Backend as a Service?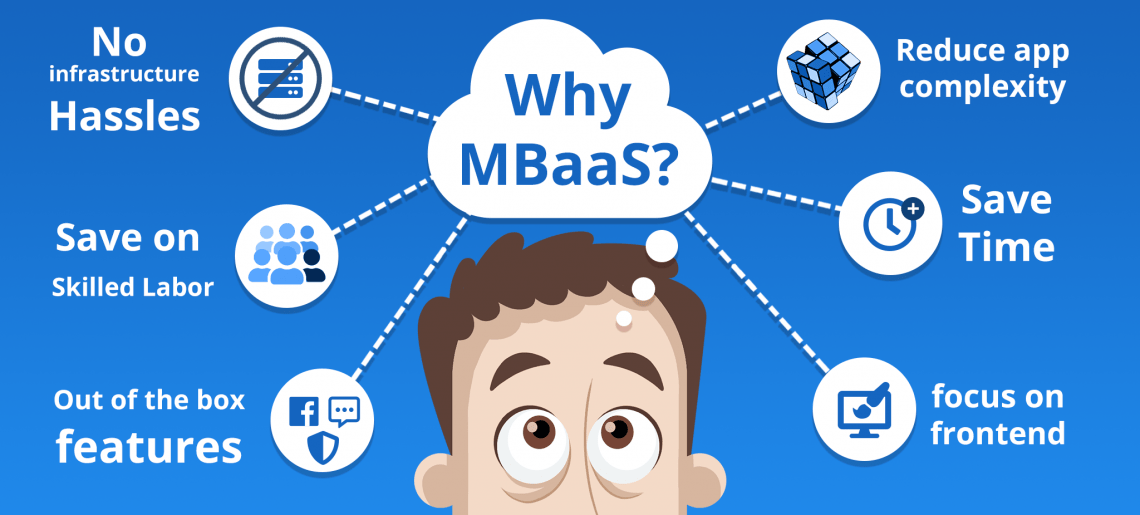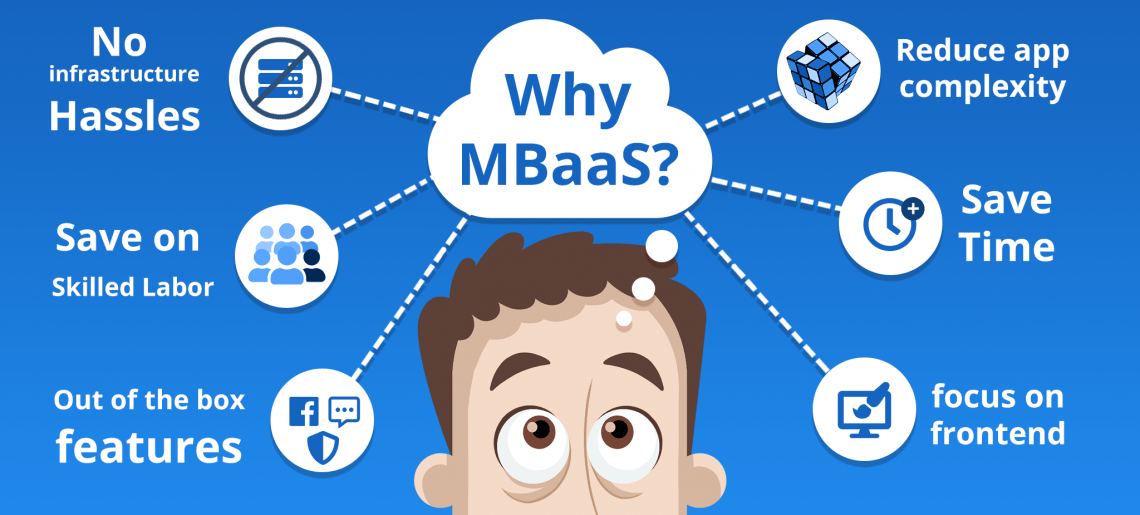 Mobile Backend as a Service: How it works and the benefits
Mobile Backend as a Service, which also referred to as mBaaS for short, is becoming increasingly popular in recent times. The reason is not farfetched, this cloud-based technology reduces the hassles of mobile app development significantly. With this route, developers no longer need to mess up with backend coding to create mobile applications, the mBaaS provider takes care of that. So, app developers can focus on coding and maintaining the app frontend, saving time and money in the process.
Are you wondering how mBaaS works? Well, it's not complicated.  The mBaaS service provider already created software that handles most events that apps need from the server backend. Some of these functions include database, cloud storage, hosting, user authentication, push notifications, remote updates, and many more.  So, developers using such platforms can focus on handling client-side logic and the app user interface. This results in a reduction in development costs, and the project timeline is scaled down extensively.
There are lots of mBaaS providers out there. So, you need to make due diligence to choose the one that works best for your app development objectives. Since there are many options, chances are high that you will find one that is perfect for you.  Let's take an in-depth look at the benefits of mBaaS.
The benefits of a Mobile Backend as a Service
Although mobile apps provide massive value for businesses, the procedure getting one up and running used to be complicated.  That is all in the past because a mobile backend as a service provider can help make development easier. They provide the infrastructure and technology you need to create top-notch apps.
Modern businesses leverage the power of mobile technology to gain a competitive advantage in their markets. So, finding the most efficient avenue to create an app for your business gives you an edge.
Since MBaaS helps you streamline your application development by focusing on the frontend, you can become more creative.  Let's take a look at the various benefits of using mBaaS for your mobile app development.
Saves development time
Since mBaaS provides a ready-made infrastructure for running your app, you save a lot of time and hassles required to server resources in place.  Therefore, the development time is reduced significantly.  In essence, you can develop an app, roll out updates, or add new features within a short time.  That is why mBaaS gives you the advantage of exploiting seasonal trends to drive sales and boost engagement. You can perform upgrades smoothly without bothering with the hassles of scaling server infrastructure.
Reduced development cost
Another crucial benefit of mBaaS is the savings you make on hiring developers. Companies that do not provide core IT service do not have development teams. Most have just a handful of IT personnel saddled with multiple responsibilities. So, they have to expend a massive budget in hiring developers to handle both backend and frontend development.
On the other hand, the companies that use mBaaS do not have to hire consultants or ad-hoc developers for the app development project.  Since the mBaaS handles the backend, your small team of developers can focus on getting the app frontend up and running. Therefore, businesses that use mBaaS can make massive savings on development costs.
Help businesses stay focused
Most businesses, including those offering core IT services (except specialized backend service providers), hardly need to handle backend coding. Therefore, meddling with such tasks is a distraction. With mBaaS, a business can focus on its core services while the backend provider handles the complicated chores related to the backend infrastructure.
With the backend hassles out of the way, your company can focus on creating more products, upgrading existing ones, and handling more client's assignments. In essence, mBaaS allows companies can focus more on creating outstanding products and scaling their businesses. So, your company can avoid the distraction of backend operations, which can affect the core business negatively.
Extended service options
Using the service of mBaaS gives your business the advantage of accessing a wide range of service options.  The best backend-as-a-service providers offer some free services such as prototyping, while other options are available at premium rates. So, your business can simply choose the service required at any point in time.
This approach allows your business to save cost, and also makes invoicing of company expenditures easy.  Costs such as data transfer, security, backup, infrastructure, and any others will be outlined in a single invoice. So, you circumvent the stress of dealing with multiple vendors and focus on scaling your business.
SMB's enjoys many benefits
Most small and medium businesses do not have the capital to invest in acquiring talents and server infrastructure required for backend development. But with mBaaS, they can have an app running without worrying about unbearable overhead costs. Besides, a business app gives a boost to the brand of any SMB. It also opens new frontiers to the business by heightening customer service, increasing engagements, and driving sales.
This means SMBs can now leverage apps for their business without making massive investments in developing costs and infrastructure like enterprise businesses do.  With mBaaS, SMBs can elevate their business by creating apps at a shoestring budget while enjoying other benefits of a small/medium enterprise. These types of business apps cost larger companies a fortune to develop.
To know more, please read the article below:
Benefits of a mobile backend as a service
When should you choose mBaaS for your app project?
If your app requires user management, file upload, push notification, and other cutting-edge services, mBaaS will be an excellent choice.  However, not all apps need these services, but the capacity is readily available on the mBaaS platform anytime they choose to use it.
The following projects can derive significant value from using mBaaS.
A smart home app that enables the user to control electronic devices such as heating and lighting in every room.  Such as an app will need to store both structured and unstructured data derived from IoT devices on the backend.  Such type of complicated backend is better handled with MBaaS, which has native support for such features.
A mobile chat app that allows its users to communicate in real-time.  Such app demands complicated API calls, cloud storage, search filters, messaging, and many more.  MBaaS makes such tasks easy to implement.
Please see a real example here.
A social media app specific for communities -you're not trying to compete with Facebook here. An app that provides functions unique to a niche, allowing its users to post events, and transact with one another.  These types of apps can leverage Backend as a service for managing logins, registrations, messaging, and database management.
Please see a real example here.
Main Features of Backend as a Service
Users of backend as a service can access a wide range of services. Some of these services include:
Data storage, management, and synchronization.
Database GUI – Graphical User Interface
REST and GraphQL APIs
Social Single Sign-On such as Facebook, Apple, Twitter, etc
Email verification
Mobile push notifications
Geolocation
Infrastructure
Analytics and reporting.
Logs
Integration with third-party apps
CSN and cache
And many more
To know more about mobile backend as a service features, please read:
Mobile Backend as a Service Features
Conclusion
BaaS provides businesses with valuable resources for app development.  The benefits range from saving time and money, reducing development tasks, and providing a wide range of services as the need arises. BaaS makes integration with third-party platforms seamless and allows developers to focus on developing frontend features. These platforms are dependable, scalable, and provides a user-friendly management interface. Such benefits enable businesses to leverage bleeding-edge technology to gain a competitive advantage in their marketplaces.