Top 10 AWS Amplify Alternatives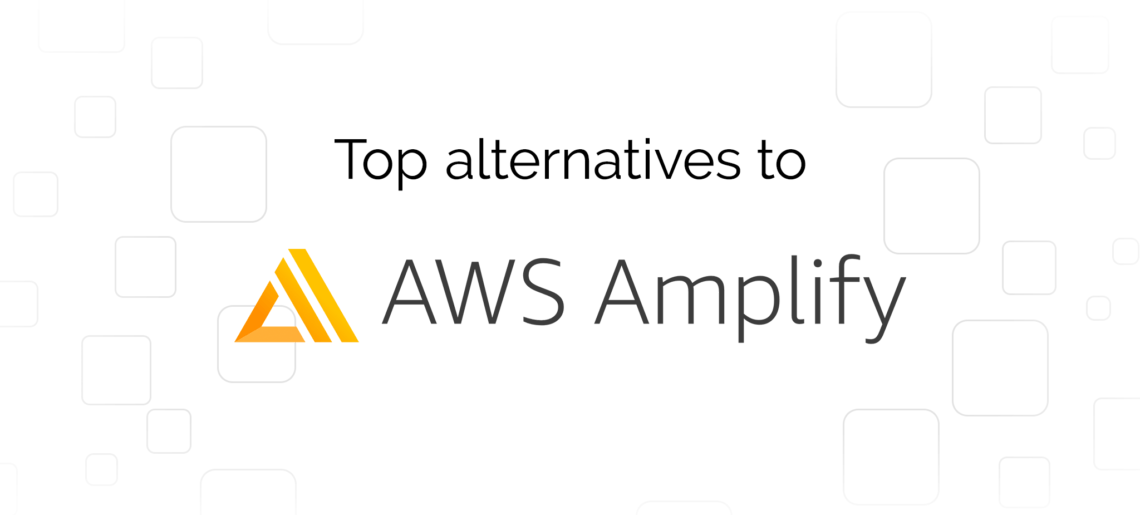 The best 10 AWS Amplify Alternatives
AWS Amplify is one of the most amazing backend platform which can allow the developers to build and integrate backend functionality in the best possible way.
In 2022 the Amplify-JS framework, has more than 1,8k forks and 8.6k stars. It is offering an amazing range of features that can bring exciting and more innovative backend solutions for mobile and web applications.
Even more, AWS Amplify is one of the most effective cloud-based solution providers too who can help the organizations and developers to manage their cloud-based operations in a better way.
AWS Amplify is an easier to scale option which comes with a higher level of flexibility to provide more functionality and easy management in the best possible way.
There are multiple AWS amplify alternatives that have the ability to allow you similar functionalities with a more amazing array of features. Here we have brought some of the best alternatives to AWS Amplify which are surely better for you to know:
AWS Amplify Core Features

The following are the core features of AWS Amplify:
Extensibility
Full-stack app development
Easy to develop and deploy
Few lines of code get things done
Visual app development
Development, hosting, deployment, and all of that at one place
AWS Amplify Advantages

AWS Amplify brings a lot of advantages, and the following are some of the best ones.
Free to start

One of the best advantages of AWS Amplify is that you can start for free. There are a lot of features available to meet all your needs without even paying anything.
Visual/ User interface driven development

When you use AWS Amplify, you develop applications visually. The UI-driven development makes things easy, simple, seamless, and above all, quick.
Backend Support

Using AWS Amplify means getting Backend management support for your application.
Analytics

For the success of any website, analytics are the most important. AWS Amplify provides analytics for the developers within the platform's dashboard that makes things extremely productive and useful.
Pay as you Go, pricing model.

Using AWS Amplify does not need you to pay a fixed price for things you do not even need. Here you can pay only for the things you use, making the whole thing extremely budget-friendly.
Top 10 AWS Amplify Alternatives

Here are the top 10 AWS amplify competitors which are going to be better opportunities for you to get more benefits from these in a more effective way.

Building a feature-rich Backend to your application is the most important thing, and Back4App is one of the most attractive platforms that provide this service. Here you can create a Backend with features integrated within a few clicks. The things like migrations and a smooth hosting experience make it an even better choice.
Features:
Works with REST API and GraphQL API
The real-time database feature ensures that you can build apps that face no data lags
Email Notifications is an amazing feature that you can integrate into your apps.
Back4App also comes with the feature to use Geo Queries in your apps
Back4App provides SDKs that are cross-platform, meaning that you can develop one app and use it on different frameworks.
To know more about Back4App features, please read: Back4app Features List
Pricing:
Free package available
Shared services start at $25 per month
Dedicated services start at $250 per month
Parse

Parse is the most popular and most widely used platform among all the Backend development platforms available today. It is famous because it makes the development process simple, easy, and efficient. By using Parse, you can do the job of days within hours. Moreover, it comes with benefits like less time and cost of development.
Features:
Social integration feature available
Email and PUSH notifications
Real-time notifications without lag or delay
REST APIs for easier development
Data Modeling feature
Pricing:
Free version available
Paid package starts at $4.99 per user per month
To know more about Parse, please read the article What is Parse? If you need to develop enterprise-grade applications in terms of security and performance, then Heroku is the platform you need to go for. It provides solutions to develop application Backends and provides amazing management tools. With Heroku, you can enjoy endless features and benefits, including third-party integration services.
Features:
Scalability
Readily available services and features for application
App management
App-Centric delivery
Integration options
Pricing:
Free plan available
Production plan at $25 monthly
Advanced plan at $250 monthly
Firebase not only brings some of the best feature lists but also brings amazing reliability as well as experience guaranteed. With Firebase, you can build applications with amazingly feature-rich Backends that can meet the needs of this era.
Features
Allows you to add authentications by different means using Email, Google, Facebook, and a lot more
Comes with a readymade API making the development process even easier
Static File hosting allows you to widen the scope of your application's features
Scalability in any application
Reliable cloud storage
Pricing
Free plan available
Pay as you go plan available with different prices for all of your needs
Azure is the AWS Amplify alternative with the instant services and features your application development process needs. Microsoft provides it, so the reliability and credibility here are both amazing. With Azure, not only will application development become quick and easy, but your management will also become easier than ever.
Features
You can get customizable services according to your needs
Azure comes with security like no other
The addition of new features to your existing application is very simple and quick
Scalability
flexibility
Pricing
You can try Azure for free
For pricing plans, you need to request a quote
Kinvey makes app development and managing the whole process easier than ever because of its ready-to-use services. There is a wide range of these services available, which will allow you to experience quick development time at low costs. Moreover, it allows you to develop native applications for different platforms.
Features
Visual application builder with drag and drop functionality
Templates that come with data connections
You can have access to the whole source code of the application that you develop
Kinvey promotes sharing code between mobile and web apps, making the development process easier than ever
Quick time to market
Pricing
Free plan available
Paid package starts at $200 per month
Oracle mobile hub is a more amazing mobile solution that is offering better opportunities to quickly build, manage and deploy mobile applications. Even more, it can also connect the application with real-time databases and third-party systems on-demand.
Features
Real-time access to data
Deliver applications and updates via the app store
Manage multiple APIs or services
Ongoing secure access
Backendless provides its visual application development platform where you can develop the application Backend and its User interface without any need to code. It is a No Code app builder where all things are done visually. In this way, the time and cost to develop an application are significantly reduced.
Features
Real-time data
User management features
Codeless application building
Application development with caching feature
Cloud code enables you to do customizations with ease
Pricing
Free plan available
You can request prices on their official website according to your needs
Netlify is your best choice if you want to develop and host applications all on one platform. It allows you to use cloud-based development, hosting, serverless Backend, and management services for your web apps and static websites. With Netlify, you can develop powerful applications with different plugins and services easily integrated into your applications.
Features
Provides user identity management services
Applications built on serverless functions
Instant forms allow for easier and quicker app development
Analytics about performance that you can use for better improvements
Split testing and rollout services ensure that your app stays away from errors and bugs
Pricing
Free plan available
Pro plan starting at $19 monthly
Business plan starting at $99 monthly
Developing your full-stack mobile and web applications on the JavaScript framework can be time-consuming and complex. However, if you use 8Base, the whole process can become easy and quick. With 8Base, you can quickly develop your applications using the low-code development model. It also provides a runtime framework for JavaScript that makes your applications feature-rich,
Features
Access control
Software development for mobile and web
Testing management
Easy to create GUI
Code assistance and Debugging features
Pricing
Free version available
Developer plan for $25 per month
Professional plan for $150 per month
Conclusion

As technology is getting advanced with every passing day therefore, more and more backend services are coming in the market. All of these services are offering some advanced features and technologies which can help you in a more amazing way.

Even more, flexible ranges and a higher level of scalability of these can also benefit you more. However, when it comes to making a better choice then you can easily go with the one whose features are attracting you more.

So, this is the time to make a better choice and go with the one which you think can suit your application types and requirements in a more effective way.

Want to know more about BaaS providers? Please read a complete tutorial below: BaaS | Backend as a Service