Top 8 AWS Amplify Alternatives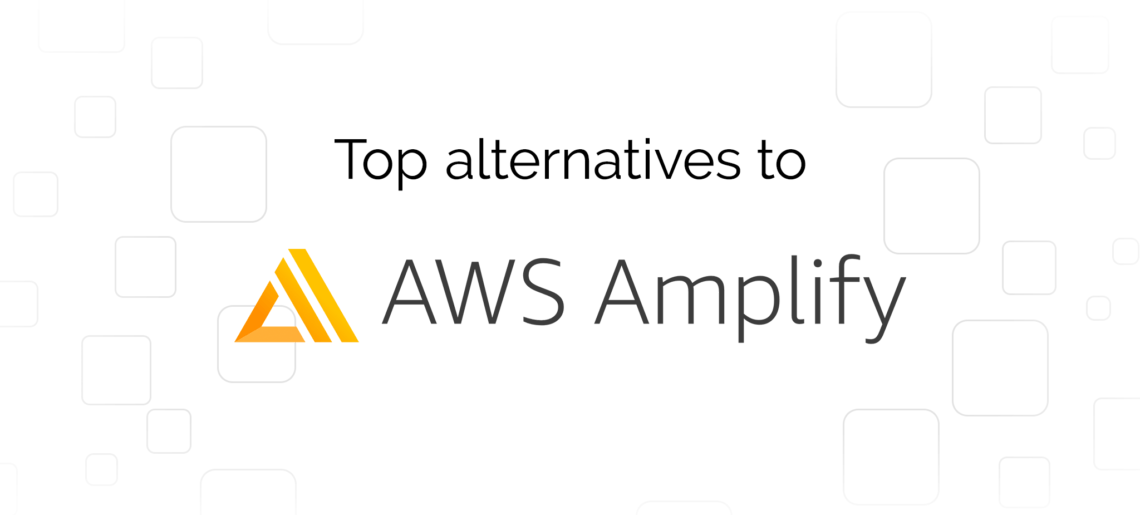 The best 8 AWS Amplify Alternatives
AWS Amplify is one of the most amazing open-source backend platform which can allow the developers to build and integrate backend functionality in the best possible way.
In 2020 the framework has more than 220 contributors on Github, 3,000 releases and 5,800 commits. It is offering an amazing range of features that can bring exciting and more innovative backend solutions for mobile and web applications. Even more, this is one of the most effective cloud-based solution providers too who can help the organizations and developers to manage their cloud-based operations in a better way.
AWS Amplify is an easier to scale option which comes with a higher level of flexibility to provide more functionality and easy management in the best possible way. There are multiple AWS amplify alternatives that have the ability to allow you similar functionalities with a more amazing array of features.
Here we have brought some of the best alternatives to AWS Amplify which are surely better for you to know:
AWS Amplify Alternatives: top 8 companies you should look out for
Here are the top 8 AWS amplify competitors which are going to be better opportunities for you to get more benefits from these in a more effective way.
Back4App is one of the most attractive backend platforms which is offering simpler one-click solutions to manage the backend functionality of your mobile and web applications in a more effective way. it is providing complete features to support essential backend operations more efficiently. Even more, it is also offering parse hosting services. This will also allow you to experience smooth migration. Even more, the developer community which is working behind this platform is meant to provide you essential support so that you can manage the things more easily and effectively.
Features
Cross-Platform SDKs
REST API
GraphQL API
Email notifications
Geo Queries
Real-time database
To know more about Back4App features, please read:Back4app Features List
Parse
Parse is one of the most common and widely used backend platform which is making the application's backend development more efficient and simpler. It can let you accelerate application development processes and reduce the utilization of cost and resources required for these operations in traditional development processes. Most importantly, it can let the developers reduce the cost of application development and will let you focus more on core functionalities. Ultimately, you can get better chances to enhance user experience with your platform in a more amazing way with ease.
Features
Real-time notifications
Data modeling
Social integrations
REST APIs
Email notifications
PUSH notifications
What is Parse?
Heroku is the most powerful platform which can help enterprises and developers to manage their web and mobile applications without taking the stress of backend solutions. It is because this platform can offer them a complete package to integrate readily to use services in their applications to acquire the required functionality in a more effective and quick way. Even more, it can provide amazing opportunities to integrate required data services, social options, etc. More importantly, it also offers a 3rd part integration for ease. With this, you do not have to worry about extending the application to a broader level.
Features
App-centric delivery
3rd party service integrations
Application management
Scalable services.
Built.io
Built.io is a platform that is enabling you to embed more powerful data integration services which can enable end-user connectivity to let you experience more ease in the best possible way. This is the time to connect applications not only to integrate an amazing array of services and features in your applications but also to automate various important tasks in a more effective way.
Features
Build on trusted technology
Leverage a flexible suite
Avoid technical stress
Save more on resources
Scale up your services quickly
Azure Mobile Apps
If you are looking for the best opportunity to manage computing structure instantly, then Azure is the best platform that is here to help you in this regard. It is because this is designed to provide more scalable and flexible services that are always available. Even more, with Azure mobile apps you can get a better opportunity to scale up or down the services very quickly. It means you can easily get the services of your requirements with ease.
Features
Customizable services
Next-level security
Push new features more quickly.
best network technologies to develop more sophisticated network solutions
Kinvey is offering an amazing range of ready to use services which can help in easier management of applications. This can let you utilize native applications across various platforms and can help you to experience more effective rapid to market opportunities.
Features
Drag and drop builder
Data-connected templates
Access to complete source code
Code sharing between web and mobile
Oracle Mobile hub
Oracle mobile hub is a more amazing mobile solution that is offering better opportunities to quickly build, manage and deploy mobile applications. Even more, it can also connect the application with real-time databases and third-party systems on-demand.
Features
Real-time access to data
Deliver applications and updates via the app store
Manage multiple APIs or services
Ongoing secure access
Conclusion

As technology is getting advanced with every passing day therefore, more and more backend services are coming in the market. All of these services are offering some advanced features and technologies which can help you in a more amazing way.

Even more, flexible ranges and a higher level of scalability of these can also benefit you more. However, when it comes to making a better choice then you can easily go with the one whose features are attracting you more. So, this is the time to make a better choice and go with the one which you think can suit your application types and requirements in a more effective way.

Want to know more about BaaS providers? Please read a complete tutorial below:BaaS | Backend as a Service