Heroku vs Firebase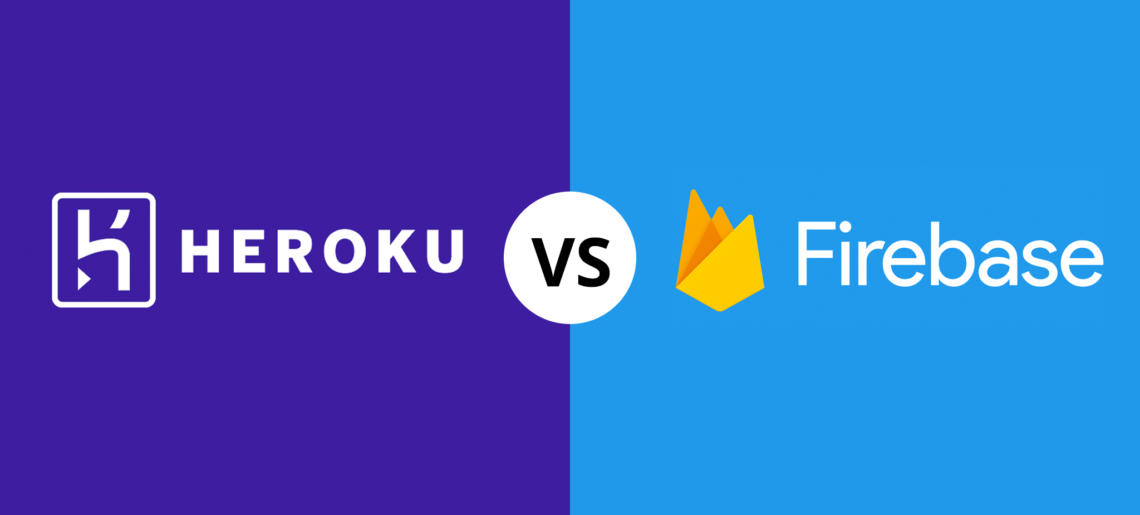 Are you considering a platform for your web hosting? You have to make sure the platform you choose will serve your immediate needs and long term objectives, especially when hosting a web application. Two of the leading options for your web hosting is Firebase and Heroku. The two platforms have powerful utilities and command-line interfaces (CLIs) that expedites your project deployment. The two platforms support custom domains, SSL, backend storage, and many other features useful for your application deployment. We have analyzed the merits and demerits of each of the platforms in this article. This information will help you choose the right one for your web or mobile application deployment.
The Benefits of Firebase
One of the greatest benefits of Firebase is that it takes off a lot of burdens related to server-side programming. Users of Firebase received a ready to use NoSQL backend storage that also has a GUI – Graphical User Interface for manual data entries. Security and privacy challenges are not an issue with Firebase because it provides SSL encryption by default. Your website can be fully branded, simply purchase a domain name and link it Firebase.
The Challenges of Firebase
One of the fundamental problems you will encounter while using Firebase is server-side limitations. Because the platform only supports static file types such as HTML files. Images, JavaScript, and so on. For instance, it is not possible to run a server-side node script within your own server instance. Instead, you are compelled to use the Google "Black Box." Consequently, your ability to control server-side functions is restricted. Firebase does provide an interface for performing server-side configuration tasks such as altering the HTTP header. In spite of this feature, loads of limitations still exist.
The Benefits of Heroku
Heroku implemented some dynamics into its platforms that enable it to void the shortfall of Firebase. Heroku implemented "dynos," which are independent application containers for running Heroku apps. Consequently, the developer can deploy apps inside their own server container. This feature gives the developer extensive flexibility to explore creativity on the backend. For instance, the developer can perform tasks relating to custom 404's, redirects, server-side routing, and the likes with relative ease. Although, there is a need to have an in-depth knowledge regarding the server functions to handle server-side tasks, the new-found freedom its beings is worth the hassles.
The logging features of Heroku is superior to Firebase. The command-line interface allows the developer to view logs in real-time. This feature makes it easy to create reports, troubleshoot challenges, and perform debugging tasks with relative ease.
When it comes to hassle-free backend configuration, Firebase has the upper hand. But the Heroku's level of flexibility for working with backend option is conspicuously missing on Firebase. Developers can leverage the multiple add-ons on Heroku to provide support for third-party backend data engines such as MySQL, Mongo DB, Postgres SQL, and many more. Moreover, because the data is stored separately, the developer has more freedom to perform backend and frontend programming without hassles.
The Challenges of Heroku
Although Heroku offers developers free starter dynos and free SSL, the costs of hosting an application on Heroku can add up really fast. The developer is often compelled to buy subscriptions from Heroku through various avenues. For instance, free SSL is only available to those who subscribed for the $7/mo. "Hobby dyno." So, be ready to dish out some cash from your wallet if you want to use Heroku.
Conclusion
In conclusion, both Firebase and Heroku are great platforms and the ideal option depends on what you want to achieve. Firebase is an excellent choice for generating a quick MPV that has a reliable backend. On the other hand, if your project requires that you have a high level of control on the backend processes, you should go for Heroku. You may need more time, knowledge, and efforts to get your application running on Heroku. However, both platforms are well established, and the implementation procedure is not complicated. The fundamental difference is that Heroku affords the developer a high level of flexibility while Firebase is providing convenience through the "black box." Magic.
Want to know more about backend services? Please read a comprehensive article here.
General FAQ
What are the benefits of Firebase?
Reduce the burdens of server-side programming, security protocols, and Graphical User Interface for manual data entries.
What are the benefits of Heroku?
Development flexibility, best in class logging, and multiple add-ons.
What are the drawbacks of Firebase?
Closed source platform, black box, and lack of flexibility.
What are the drawbacks of Heroku?
Prices rise pretty fast, SSL available only on paid plans, and sleeping apps.