Top 10 Managed Application Hosting Services
A survey of eMarketers anticipates that Americans consume 4 hours a day with their smartphones. They spend 88% of the time from these 4 hours on using mobile applications.
Similarly, SimilarWeb also represents that mobile web traffic in April 2020 was around 11.4% greater than the last year's traffic. These trends show a prominent increment in the demand for applications.
To host such applications, developers use different hosting methods and managed application hosting is also one of them. However, it is challenging to pick the right managed application hosting providers among distinct options.
That's why this guide is presenting one of the best managed application hosting services with their features.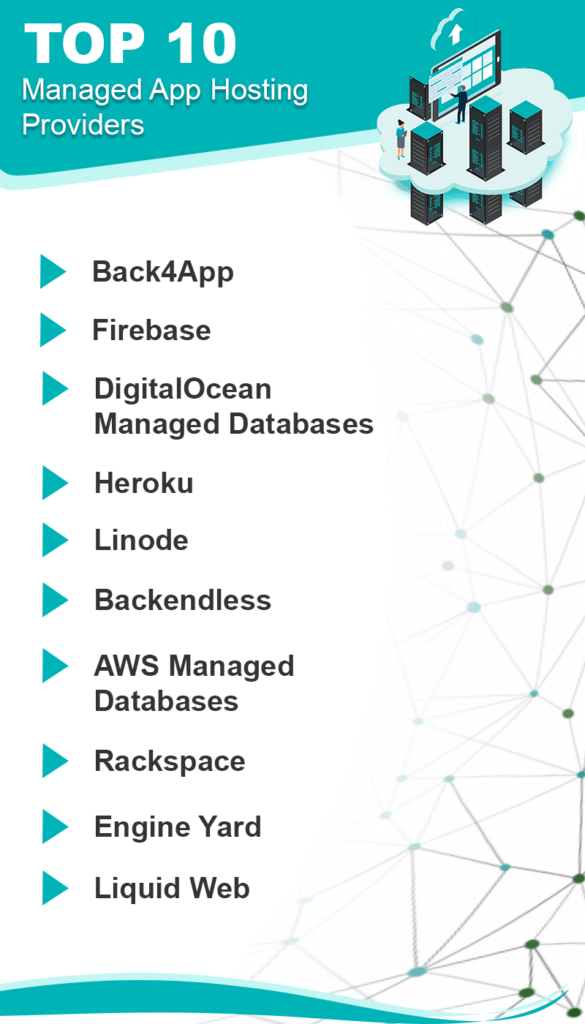 What is Application Hosting?
Application hosting permits developers and businesses to deploy and run applications on the cloud or server. Application hosting providers host these servers.
Among cloud models, application hosting is usually provided in the form of Software as a Service (SaaS) solutions. Moreover, seamless data integrations, real-time data updates and no infrastructure maintenance are also some benefits of using application hosting.
Back4app, Firebase, AWS, and Linode are considered application hosting service providers with flexible subscription models.
What are the Advantages of Cloud Hosting?
Cloud hosting offers a variety of advantages to its users. Withal, this article is going to discuss one of the major advantages of cloud hosting here:
Saves Money & Time
When businesses or developers use cloud hosting services, they don't have to pay for IT infrastructure and maintenance. Indeed, you don't have to pay for hardware.
Even you can continue your application projects with a small IT team. This feature of cloud hosting doesn't only reduce your cost of capital expenditures but also overcomes the total cost of ownership in cloud computing.
In the same token, as compared to conventional application hosting, it is quick to run, host and deploy applications with cloud hosting. Cloud hosting boosts the software development speed. This property of cloud hosting also speeds up the app's marketing process.
Scalability
Scalability is one of the most appealing advantages of cloud hosting. Either you are a startup or a big business, it is always seamless to scale down and up your resources.
In addition, if your application is growing and you want to add more storage and resources to your plan then cloud hosting is the solution. It needs only a few clicks to add or remove storage and other features with cloud hosting.
Improve Security & Server Uptime
Data security has become vital to run applications successfully. Mainly, if businesses want constant growth, brand loyalty and high revenues then it is essential to avoid data breaches.
Cloud hosting is enhancing security with characteristics like authentication, granular permissions, encryption and access control. On the other hand, most cloud hosting providers claim 99.99% server uptime that also improves the application's credibility.
Ultimate Storage & Data Recovery
Another reason for using cloud hosting for applications is its cloud storage. With an easy interface, it is very quick to store, access and fetch all kinds of complex and other data from cloud storage.
Cloud storage also permits users to approach data anytime anywhere according to their position in the system. Indeed, you can allow multiple user data access if you are working on a project with a team.
Moreover, it is convenient to recover data with cloud hosting. Especially, if you subscribe to the data recovery features then it becomes effortless to approach lost data from the cloud.
Makes Location Independent
The consumption of cloud hosting servers has enhanced over the last few years. Although there are many factors that are promoting the use of cloud hosting among users but its location independence property is also one of them.
Yes, businesses can access their applications by using different devices including PC or smartphones in any part of the world. Surely, like the traditional application hosting servers, it doesn't bind you to a particular location.
Top 10 Managed Application Hosting Services
Here are the 10 best managed application hosting services with their core properties. Please read the benefits of managed services to know more about this subject.
1. Back4App
Back4App is one of the trustworthy managed application hosting services that started its journey in 2004. Although this cloud hosting provider began its services as a software consultant firm but later, it started offering a variety of cloud services mainly backend services.
Here are dominant features of Back4App:
Open-source, relational, and scalable database.
Back4App offers a 'Live Query' feature to deliver real-time data to its customers. This property also avoids inappropriate repeated inquiries.
Developers can benefit from REST and GraphQL APIs when they host their applications with this managed application hosting service.
Extensible cloud hosting plans with flexible pricing models also fascinate businesses to use this hosting solution.
The basic plan of Back4App starts from $5/month. Luckily, it gives a free plan to test their services.
2. Firebase
Firebase is an easy-to-use managed application hosting service that comes with a variety of benefits and features. Google's support for its operations also makes it a very trustworthy application host for both large scale businesses and SMEs.
You can consider the following characteristics before using Firebase to host your application:
Scalable, realtime NoSQL databases.
The utilization of Firebase CLI enables the developers to deploy and run an application within seconds.
It also allows you to preview your application changes with teammates or supervisors before going live.
Firebase application hosting backs a variety of content including APIs, HTML files, CSS and Express.js microservices.
Zero-configuration SSL is another great property of Firebase hosting that safeguards the application from different cyber threats.
3. DigitalOcean Managed Databases
If you are looking for an affordable managed application hosting service then DigitalOcean Managed Databases could be worth using option. DigitalOcean handles all complex hosting operations and you just need to focus on creating good applications.
Here are the main features of DigitalOcean Managed Databases:
This highly scalable application hosting provider offers free backups on a daily basis.
DigitalOcean operates databases in private networks to avoid data breaches.
Cloud VMs with dedicated or shared CPUs also improves the app's performance.
Automated failover and scalability features also make it one of the best managed application hosting services for users.
4. Heroku
Heroku is another cloud hosting platform that comes with distinct properties. It is considered a reliable PaaS solution for modern applications. However, it is a worthy solution to host applications in fully managed environments.
Here are the key properties of Heroku:
Heroku Redis is an exciting feature that supports numerous languages and dynamic data kinds.
By using GitHub integration and Heroku Pipelines, it is seamless for Heroku Flow to stage, build and ship applications.
Scalability, continuous delivery, data rollback and extensibility are also some powerful characteristics of using Heroku.
5. Linode
Linode is another inexpensive managed application hosting provider that entered the market with simple and affordable cloud solutions.
Here are key features of Linode:
It is a 100% independent hosting platform with 99.99% uptime.
It takes a few seconds to install servers.
It is easy to administer Linode servers with an improved digital experience.
SSD based services, one-click app installation and managed security are also characteristics of Linode managed application hosting.
6. Backendless
Backendless is a renowned application building platform that was launched in 2014. Although it is famous because of its Backend as a Service (BaaS) solutions but also a considerable option for application hosting.
See the features of Backendless here:
It offers foolproof security and easy user management.
It is free to build and host your application with Backendless for beginners.
The use of multi-platform caching API for data also improves the speed of your application.
7. AWS Managed Databases
AWS is a renowned name among the managed application hosting providers. In this regard, you can consider using AWS fully managed databases including Amazon RDS, Amazon Keyspaces, Amazon DocumentDB and Amazon ElastiCache.
Here are the major benefits of using AWS Managed Databases:
Provides real-time updates and great scalability properties.
It provides automated failover and backups.
Quick support, high availability and powerful security are also some features of AWS managed databases.
8. Rackspace
With multiple cloud certifications, Rackspace is a notable name in the cloud computing world. Moreover, it is also considered a reputed managed application hosting service because of its 20+ years of experience in the managed services industry.
Here are key properties of Rackspace managed app hosting:
It offers a private cloud to administer external and internal client activities.
MySQL, Oracle and Microsoft SQL DBAs enhance the database performance.
Managed backups and network attached storages are also benefits of using Rackspace fully managed hosting.
9. Engine Yard
Engine Yard is a California based PaaS solution provider. It was launched in 2006 and comes with distinct reliable managed application hosting features.
Here are its core characteristics:
It allows developers to optimize resources.
Engine Yard permits to deploy and host applications within seconds.
24/7 customer support, scalability and full managed services are also some advantages of using Engine Yard.
10. Liquid Web
If you are looking for a hassle-free fully managed cloud hosting service then you should pick Liquid Web. With 500+ on-site professionals and 10 global data centres, it is a credible place to host your application.
Here are its core features:
Easy to use for both large enterprises and small SMEs.
Liquid Web also offers customizable dedicated and cloud servers.
99.99% uptime with strong security features also improves your digital experience.
Conclusion
This article presents the top 10 managed application hosting providers with concise reviews. Hopefully, it would assist you in choosing the right service for your project.
FAQ
What is Application Hosting?
Application hosting permits developers and businesses to deploy and run applications on the cloud or server.
What are the advantages of application hosting?
– Saves time and money
– Scalability
– Uptime
What are the best managed application hosting services?
– Back4app
– Firebase
– Heroku
– Digital Ocean Managed DBs
– AWS Managed DBs
– Rackspace
– Engine Yard
– Liquid Web
– Linode
– Backendless