Top Mobile Game Backend Providers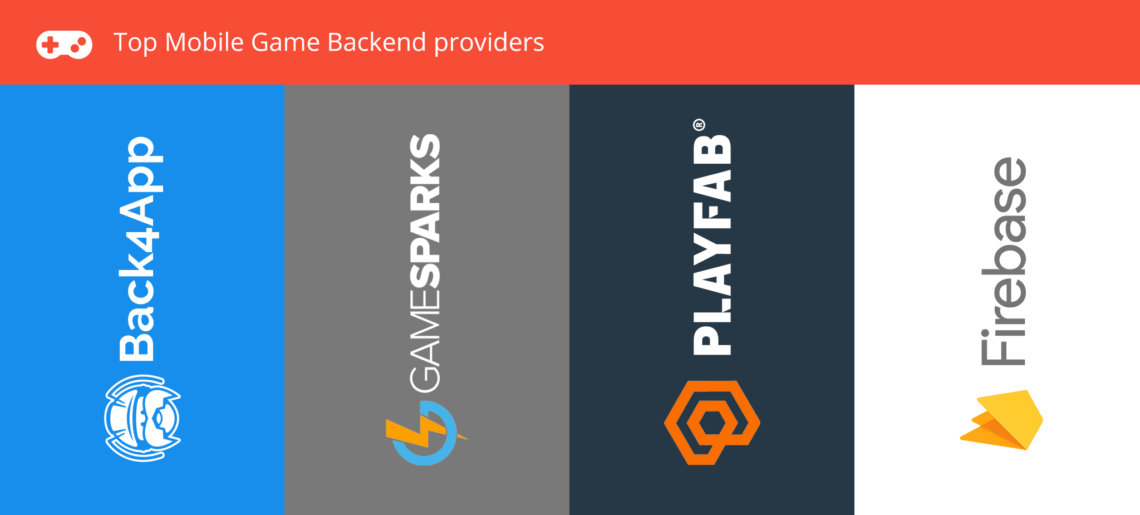 This article will discuss the best mobile game backend providers, their core features, pros/cons, and pricing structure. 
Mobile gaming has become one of the most popular niches in the video game industry. There are hundreds of mobile games that have more than a million downloads.
The mobile game industry can become the most popular & most profitable video game industry because almost everyone has a mobile phone these days.
Because games are technically a program, they require some space on the computer system playing them so that the games can store information and retrieve it for later use.
Introduction to Mobile Game Backend
Backend is all the essential logic and processes that go behind running a game that isn't visible to the user that is playing the device.
Developers can either develop the backend themselves or ask game backend providers to deliver backend features, so developers can focus entirely on creating that game themselves.
Here are the top mobile game backend providers that you should know about:
Back4App is an exclusive game backend provider company that is more suited to beginner developers who are looking to get into the mobile game development market but do not want to invest their resources in backend development.
The interface of the website is very simple, and even first-time users can easily navigate through the screens. There are three pricing options for Back4App, with no complex pricing systems.
Free – 

It is ideal for making new prototypes, and you will get 1 GB of storage, 1 GB transfer, and 25k requests.

Shared 

– Basic at $25/month. All the features of free and having a daily backup option, monitoring, and scaling.

Dedicated 

– All features of Shared, plus much more like dedicated Virtual Machines, security, cloud service, and so on.
Want to know more about Back4App's features? Please read the guide below:
Please not that AWS will shutdown GameSparks and no new games launches will be supported after March 31, 2022. 
GameSparks has officially become one of the most popular mobile game backends. GameSparks was launched back in 2013 and has ever since grown up into quite a successful backend development company, playing a pivotal role in many successful games on the market.
GameSparks gives its customers real-time analysis of the application, different management functionality under a single dashboard, leaderboards for gamers who want to be competitive in a particular game, and much more.
The best thing about GameSparks that has made it so popular is that the backend developers can develop real-time multiplayer games, which were a new development in mobile gaming back in 2013. Even right now, there are not many real-time multiplayer games on the mobile market.
GameSparks offers a competitive market rate, with three options available:
Development –

  Includes all the essentials required for developing the backend, cloud service, documentation, and so on. It's free.

Standard –

  Includes everything from development and much more like publishing rights and connections. It costs $299 a month.

Enterprise

 – Includes everything from Standard and gives the option to add custom features. The price can be negotiated through their link.
If you are looking to make online multiplayer games or just games with cloud services, look no further than PlayFab, a very complete game backend development stack that has proved to be very successful.
PlayFab is not limited to online games, though, as it can also make the backends of single-player games. But since PlayFab has an official partnership with Photon, the most popular multiplayer service (Unity3D also uses it to provide online functionality), PlayFab's forte is, without a doubt, multiplayer games.
PlayFab can provide a lot of features no other game backend team can provide, like player management, adding in-game messaging, and so on. Plus, their new marketplace is impressive and ever-so-growing. Customers can buy/download features that will make their backend game even stronger.
Oh, and if you still can't believe the legitimacy of the application, Microsoft bought it, and it is currently under Mircosoft Azure.
There are four pricing plans, with no extra pricing:
Free Tier – PlayFab provides a free tier to start
Pay as you go – Resource-based billing 
Standard Plan – $99 per month 
Premium Plan – $1,999 per month
Google acquired Firebase service in 2014. Since then, Google has invested heavily in Firebase and increased its feature set considerably. The core features include scalable databases, authentication, notifications, AR/VR, storage, and analytics.
Firebase has two price plans:
Free 

– Though supposed to be used for prototyping purposes, developers can also develop applications through the free version. All the essentials are present, though extra features are limited.

Blaze Plan 

– A custom on-order price plan that can include as many services as you require. They have a custom calculator that can calculate your pricing too.
Conclusion
This article explained the best backend providers to create a mobile game.
It explored the core features of each provider and the pricing structure. The list includes Back4app, Gamesparks, PlayFab, and Firebase.
Want to know more backend providers? Please read the article below:
General FAQ
What are the best game backend providers?
The list includes Back4App, GameSparks, PlayFab, and Firebase.