The best backend platforms for your React Native app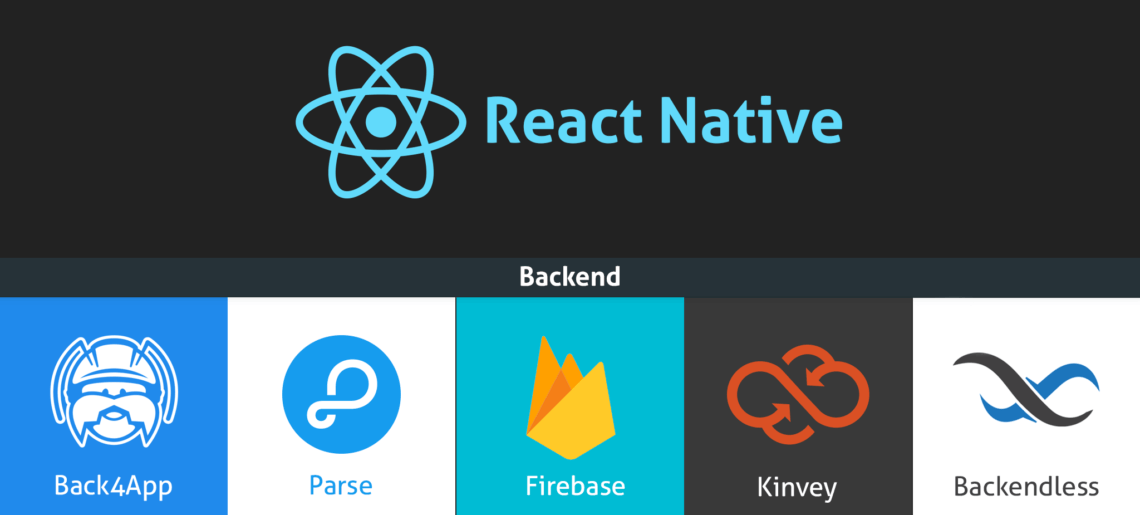 Backends are vital components necessary for the swift and hassle-free development of mobile platform applications. Developers require versatile and feature-rich backends for all of their mobile application development and testing requirements.
There are several currently available backend options if you are developing applications for mobile platforms with the React Native framework. The decision of a backend for your React Native app can be quite crucial for ensuring ideal development results.
Please read in to know more about the React Native framework and some of its best backend options.
What is React Native?
React Native is a mobile app framework from Facebook. This open-source framework can be used to develop Android, web, iOS, and desktop applications. React Native is widely popular as a JavaScript-based framework used for native-rendering Android and iOS apps. Developers can utilize React in conjunction with the features of native platforms.
React Native is based on the user-interface focused JavaScript library of Facebook, and is suitable for mobile platform development. Developers can use the JavaScript library to write native apps and share code across platforms. React Native also facilitates better concurrent iOS and Android application development.
React Native applications are developed by using JSX, a combination of JavaScript and XML. Its bridge performs native rendering API invocation with Objective-C and Java for the iOS and Android platforms.
Applications created with it render using actual mobile UI components and work similarly to other mobile apps. React Native applications can access features such as location and camera access.


React Native Advantages
Strong community support – The React Native framework is backed by a large community of developers, making things easier for new developers who choose to use it. Community support makes mobile application development an easier prospect.
Code reusability and low costs – React Native is advantageous for developers as it offers code reusability. They can utilize the same code for both Android and iOS development. It enhances development time and cost savings, and is thus a preferred option for most businesses.
High performance – React Native architecture is quite well-suited for mobile devices. It utilizes a graphics processing unit (GPU) as opposed to the CPU-intensive approach of native platforms. React Native is also quite fast if compared to hybrid technologies.
Live reload – React Native had a convenient live reload feature that helps developers observe any change made to their code reflected instantly. This feature also contributes to achieving speedy application development.
Simple UI – React Native offers users a simple and easy-to-use mobile user interface. This makes it a useful framework and JavaScript library for creating high-quality, responsive UI designs.
Stable applications – React Native facilitates simplified data binding to raise the stability and reliability of applications.
What is a Backend as a Service?
Backend as a service (BaaS) refers to a cloud service approach capable of facilitating backend development automation. This service model enables effortless cloud infrastructure management.
BaaS service providers perform the running and maintenance of servers. It offers various tools that developers can use to create backend code and speed up development. BaaS provides convenient features like APIs, data management, push notifications, and file storage.
Under a BaaS cloud infrastructure model, SDKs and APIs function as connectors between apps and cloud backend services. APIs in BaaS are built to function as the base for Android and iOS platforms.
This service model reduces the need for purchasing hardware. BaaS is generally considered as a flexible option that simplifies the development of APIs.
Backend as a Service Advantages
Scalable – BaaS is quite advantageous for developers for the level of scalability it offers to them. BaaS resources can be scaled whenever the requirement arises.
Easy to use – BaaS services are known for their remarkable ease of use. Developers are not required to perform any type of maintenance and hosting. A BaaS service provider is responsible for handling all maintenance-related activities.
Saves time – BaaS facilitates fast and hassle-free development as it removes the need for developers to run and manage cloud servers. BaaS makes various resources instantly available for the convenience of users. Developers may experience faster development with BaaS than with alternative cloud service models.
More flexible – BaaS provides a significant level of flexibility when compared to most other cloud service models. It facilitates agile and hassle-free mobile application development, along with API deployments and web development.
The Best 5 React Native Backend Services
Back4app

Back4App is an open-source backend solution ideal for developers looking for ease of use, relational queries, and GraphQL APIs. It is known for the level of scalability and usability it offers to developers.
Back4App is widely preferred for the development, hosting, and management of applications within a single platform. It is suitable for hosting APIs for web, mobile, and Internet of Things (IoT) applications. 
Do you want to explore the Back4App features for your next React Native App? Check our Docs
Parse

Parse is another backend for your React Native app if you are looking for a suitable React Native backend service. It aids in the development of web, mobile, IoT applications, and application backends. Parse provides support for technologies including Swift, React Native, Ionic, Java, and Xamarim. 
Backendless

Backendless is a MbaaS (Mobile backend as a service) with several powerful tools for effortless and fast development. This open-source service offers cloud-based, dedicated, and managed servers, along with user-defined APIs.
Kinvey

Kinvey is a serverless app development platform and one of the best React Native backend services. It is used for the development of robust multiple-channel applications.
Kinvey functions through frontend SDKs with a cloud backend. It can offer quality user experiences owing to its pre-built components. Some of its features include storage, integration, and development.
Firebase

Firebase is one of the most popular BaaS platforms and yet another suitable backend option for React Native. It provides several powerful features and components that aid in application development for mobile and web platforms. Firebase is a NoSQL program that uses the JSON protocol for performing data storage actions.
React Native Backend Services Comparison
Provider
Core Features
Pricing
Back4App
Realtime Backend
GraphQL APIs
REST APIs
Cloud Code Functions
Free Tier
Plans @5/mo
Parse
Datamodel
APIs
File Storage
Push Notifications
Authentication
Free to download
Backendless
Virtual development
APIs
UI Builder
Database
Free version
Plans @25/month
Kinvey
Serverless backend
Cloud services
Microservices
Free trial
Plans @2500/year
Firebase
Realtime databases
Analytics
Hosting
Free tier
Pay as you go model
Conclusion
These are five of the backend platforms for your React Native application. As a developer, you possibly have secured your choice already. Still, this list would be valuable for those who are yet to decide or plan to change the backend they are currently using.
To know more about React Native, please read the article Top 10 React Native IDEs.


General FAQ
What is React Native?
React Native is a mobile app framework from Facebook. This open-source framework can be used to develop Android, web, iOS, and desktop applications.
What is a Backend as a Service?
Backend as a service (BaaS) refers to a cloud service approach capable of facilitating backend development automation. This service model enables effortless cloud infrastructure management.
What are the best React Native backend platforms?
– Back4app
– Parse
– Backendless
– Kinvey
– Firebase