Top 10 Mobile Cloud Providers
The Mobile Cloud industry showed considerable growth in the past few years. A Global Mobile Cloud Market report shares that the mobile cloud's estimated growth would be $94.75 billion in 2023. This growth was anticipated at around $24.51 billion in 2017. This data presents that the mobile cloud market is flourishing at a fast pace.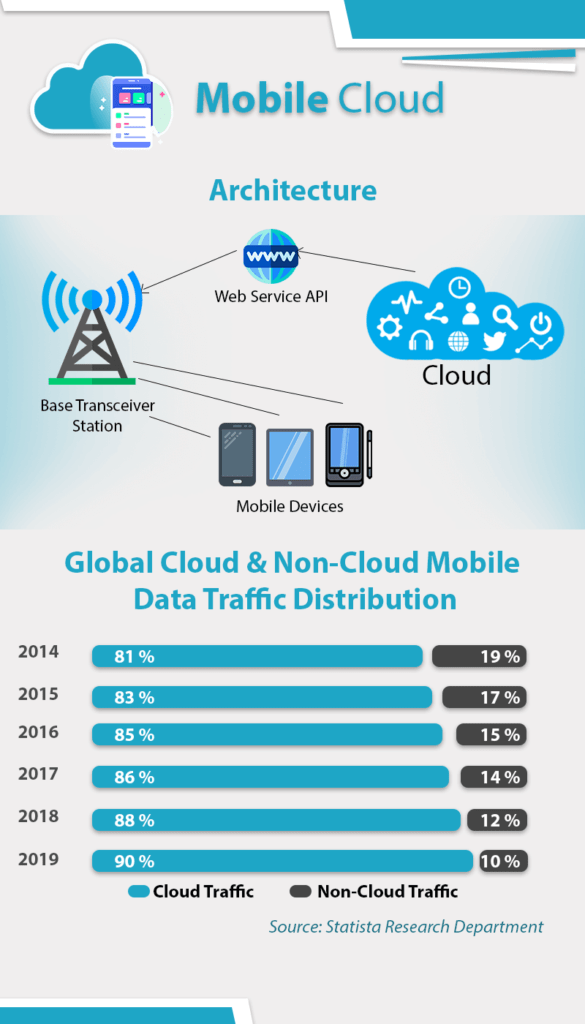 That's why in this article, we are going to discuss the benefits of using a mobile cloud and the top mobile cloud providers.
What is a Mobile Cloud?
The combination of cloud-based applications, services, and data, which are particularly designed to run on portable or mobile devices, is known as mobile cloud.
In conventional mobile cloud climate, apps, storage, and computing services are carried out from the cloud. Indeed, it uses a remote cloud server to deliver mobile services and applications.
Moreover, users with the mobile cloud can also utilize and approach their mobile platform or device's applications. The major mobile cloud providers are AWS, Azure, Back4App, and Firebase.
Benefits of a Mobile Cloud
The fast growth of the mobile cloud industry is associated with its benefits. That's why we are sharing the core benefits of using a mobile cloud with our readers here:
Flexible & Saves Time
It is flexible to build applications with mobile cloud computing. You just need an internet connection to approach, store or fetch data globally. It is seamless to pick any service with a mobile cloud that suits your business. Surely, it supports several development techniques and devices. Besides, mobile cloud computing also makes the exchange of data very convenient.
On the contrary, programmers spend a lot of time setting up servers while using conventional mobile app development methods. However, with cloud storage service, it has become quick to develop mobile applications. Even developers can consume more time on core operations instead of server administration.
Diversified Platform Support
It is another excellent advantage of the mobile cloud. Indeed, cloud computing technology permits developers to operate their applications on multiple OS platforms and web browsers with great ease. Actually, the mobile cloud supports numerous platforms and devices. That's why you don't need to waste your energy in developing apps for distinct operating systems.
Secure Backup & Recovery
Mobile cloud applications are not only beneficial for developers but also good for users. Especially if we talk about data backups, then they keep data backup on the cloud.
These cloud applications use a password. That's why in case of device loss, it is easy to get all the data. Without losing any data, you can recover everything on any other mobile device because everything is stored in the cloud.
Similarly, if a developer loses the app's captious data, then the mobile cloud allows it to recover it from any location. The developer just needs an internet connection to recover that data.
Furthermore, mobile cloud computing also erases your concerns about data security because it uses 'Cloud Disaster Recovery.' It is basically a plan to stock and retains data on the cloud with great security measures.
Economical
Mobile cloud computing is a magical solution for developers and companies who want to build cost-efficient applications. Definitely, MCC reduces the cost of hardware, and you only need to pay for what you utilize.
Surely, mobile cloud providers like AWS, Azure, and Google Cloud offer pricing calculators instead of static quotes for their services. In short, as compared to conventional mobile app development, hosting, and storage services, the mobile cloud is very economical.
Speedy Development
Mobile cloud platforms are already armed with necessities like backend connections, pre-packed APIs, integration, and security. These already available requirements allow developers to build mobile applications in less time.
Easy to Scale
Mobile applications need regular maintenance and upgrades with native app development, and it becomes a headache many times. However, mobile cloud apps are not only easy to build, but you can also upgrade and maintain them seamlessly. As compared to native apps, you can upgrade mobile cloud apps with less effort, time, and cost.
Top 10 Mobile Cloud Providers
Are you in search of the right mobile cloud provider? But not sure which one would be the best fit for your project? If yes, then read the features of the following mobile cloud providers to make the right decision. Here is a list with some of the best cloud services for mobile applications.
| | | |
| --- | --- | --- |
| Provider | Description | Category |
| Back4app | Low-code backend to build modern apps | BaaS |
| Firebase | Firebase helps you build and run successful apps | BaaS |
| Heroku | Heroku is a platform as a service (PaaS) that enables developers to build, run, and operate applications entirely in the cloud. | PaaS |
| Digital Ocean | Makes cloud hosting simple and cost-efficient, so you can focus on growing your hosting business. | IaaS |
| Linode | American privately-owned cloud hosting company that provides virtual private servers. | IaaS |
| Vultr | The Infrastructure Cloud. Easily deploy cloud servers, bare metal, and storage worldwide. | IaaS |
| Alibaba Cloud | Alibaba Cloud offers integrated suite of cloud products and services to businesses , to help to digitalize by providing scalable, secure and reliable infrastructure. | IaaS |
| AWS | Build, Deploy, and Manage Websites, Apps or Processes On AWS' Secure, Reliable Network. | IaaS |
| Azure | Cloud computing service created by Microsoft for building, testing, deploying, and managing applications. | IaaS |
| Backendless | Visual app development platform that makes apps intuitive to build and easy to manage, no code required. | BaaS |
Ready to know more about each provider?
Back4App entered the cloud market with the aim of accelerated backend development services in 2015.
With features like real-time queries, cloud code functions, and databases, Back4App is a trustworthy name among mobile cloud computing providers. It offers one of the best BaaS cloud delivery solutions to its users.
Indeed, Back4App helps the users to put less effort and get quick results in the development and management of mobile cloud applications. Back4App grants an extensive range of mobile cloud computing features by using Parse servers.
Core Features
Real-Time Data Management — Back4App offers Live Queries to deal with data in real-time. It helps when developers need to build chat applications or other same kinds of mobile apps.
Scalability — Back4App provides scalable mobile cloud computing services. The scalability helps the users to acquire and manage the resources according to the requirements.
Cross-Platform SDKs — Every developer wants to run his application on different platforms. Back4App provides native Parse SDKs. These SDKs help the user in creating applications for every device.
GraphQL & REST APIs — Back4App mobile cloud computing platform provides the feature of automatically generating GraphQL & REST APIs for all the database operations.
Database Storage — Back4App provides SQL and NoSQL database storage for the developers to gather the applications' data. SQL is helpful where developers need structured storage, and NoSQL is beneficial for unstructured data storage.
Other Features – Mobile cloud hosting, notifications, dedicated computing resources, cloud based services, authentication, etc.
Pricing
Back4App provides a free plan for the users to test their services where users can get 10GB data transfer, 10k requests and 250Mb database storage.
The pricing of Back4App depends on the features and resources that you require, but it starts from $25 per month.
Firebase is considered one of the most reliable mobile cloud solutions for businesses and startups. Google aids Firebase, and it is the reason due to which most of the developers rely on its services. Firebase provides extraordinary features and services of mobile cloud computing.
In addition, this platform is easy to integrate with any mobile platform, including Android and iOS. The user can go with a demo. Or can watch a video on its official website to experience the services and features of Firebase.
StackShare reports that around 2251 companies are using the services of Firebase. Among these companies, Trustpilot, Twitch and Alibaba Travels are big names.
Core Features
Authentication — Firebase allows an end-to-end or throughout identity solution for user authentication. It only allows authorized users to access the application. It is very helpful for the security of the applications and their data.
Ready-to-Use ML APIs — Firebase provides the features of machine learning, including ready-to-use APIs. It helps and supports the users for custom model deployment.
Real-time Database — Firebase provides the real-time databases solution to the developers. By using a real-time database, users can gather and comply with JSON data in actual time or when the user is offline.
Release & Monitor Product — Firebase provides multiple release and monitoring products. These products help the users release the project seamlessly and monitor the application's performance and stability.
Other Features – Cloud mobile platform, analytics, crash reporting, A/B testing, etc.
Pricing
Firebase mobile cloud computing platform follows a Pay-as-you-go rule. You will have to pay for the resources and services that you need. There are some features and products that are completely free at Firebase mobile cloud platform.
Keep reading to discover other great mobile cloud application services.
Heroku is another famous cloud computing platform that also provides mobile cloud services. Heroku is one of the primary companies which provided the services of cloud computing. The developers can develop and manage the applications on a scalable cloud computing platform with Heroku.
It also offers a powerful set of features for mobile cloud computing which has become the reason for its brilliance. StackShare states that around 2099 companies are using Heroku. Major companies that are using its services are Product Hunt, Accenture, and StackShare.
Core Features
Apps Monitoring — App Metrics is a handy feature of Heroku. It helps you to monitor all the time about its throughput, response time & CPU usage.
Support Open-Source Languages — You can run multiple languages on Heroku mobile cloud platform. It supports different languages like Node, Ruby, Java, and many other languages.
Focus on Development — Heroku deals with everything, including patching, upgrading, security, and more. You can keep your attention on the development of productive applications.
Trusted App Operations — The operations and security team of Heroku is up 24/7 to secure and maintain your applications. The customers shouldn't worry about the security threats because the Heroku team deals with such dangers.
Pricing
Heroku provides flexible pricing solutions, which vary from personal projects to enterprise projects accordingly. The cost of the Heroku mobile cloud services depends on the resources that you utilize.
In the list of mobile cloud platforms, DigitalOcean is amongst the top-ranked service providers. DigitalOcean provides a mixture of cloud services with mobile computing to empower mobile applications to perform better. Moreover, it provides a compelling cloud platform for developers to build and manage their applications.
Core Features
SSD Based Block Storage — DigitalOcean cloud platform provides Block Storage for data storage using SSDs. SSDs are helpful for the better performance of applications through quick data access.
Simple & Easy to Use Control Panel — DigitalOcean focused on better User Experience. It has provided a smooth and user-friendly control panel for the users to easily build and manage their applications.
Simple & Easy to Use Control Panel — DigitalOcean focused on better User Experience. It has provided a smooth and user-friendly control panel for the users to build and manage their applications easily.
Load Balancer — This feature is beneficial and effective for the better performance of applications. DigitalOcean provides Load Balancer's feature to equally distribute the load among different servers to utilize all the resources.
Pricing
The pricing of DigitalOcean also relies on the features and resources that you need to run and manage your applications on the cloud. However, the pricing starts from $5/month for basic droplets and then goes on according to your needs.
Linode is another prominent cloud computing platform. It offers the services of mobile cloud computing with a brilliant set of features. This is a US-based platform and provides Virtual Private Servers for deploying and managing the applications.
With Linode, you can easily deploy, store, compute and network instantaneously with a user-friendly cloud manager. StackShare presents that around 428 developers claim to be using Linode.
Core Features
Easy to use Cloud Manager — Linode provides a user-friendly and interactive cloud manager to deal with cloud infrastructure seamlessly. Also, it is straightforward for a new user to understand and use the Linode services through cloud manager.
Integrations — Linode enables you to connect the infrastructure and development tools with the cloud platform. You can manage the resources with the tools you like to work with reliably.
Security Features — Linode provides ultimate security features for the safety of data and programs. You can use DDoS protection and Cloud Firewall as well to make it secure for you.
Backup — Linode provides the service of Backup for the customers. Sometimes, users dispose of data accidentally or due to some malfunctioning. Backup storage helps you restore your lost data in a brief period of time to resume your applications' functioning.
Pricing
The pricing of Linode is relatively lower than most of the known mobile cloud providers. However, it depends on the features and services you utilize. You can use the 'Linode Cloud Cost Calculator' to get the estimated cost.
Vultr is a popular cloud platform that facilitates customers with VPS servers, cloud hosting, and cloud servers. No doubt, Vultr is famous because of its powerful and fully-featured control panel & APIs.
The developers do not need to spend time on managing infrastructure with Vultr. They can spend more time building and deploying apps.
The powerful APIs assist you in automating all the operations of Vultr into your system easily. Companies including DNSFilter, CodeCraft, and Hund are using Vultr for their ventures, according to StackShare.
Core Features
Easy Management — It is utterly simple to manage servers with Vultr. The common operations like ordering servers and managing backups are only a few clicks away by using the seamless control panel of Vultr.
100% SSDs — The Vultr only uses SSDs for storage in the server. SSDs help to increase performance and efficiency through quick data access.
DDoS Protection — Vultr provides the security feature of DDoS protection to avoid DDoS attacks on the applications. It helps the users to protect their applications and server from security threats.
Storage — Vultr provides the services of Block Storage as well as Object storage for the customers. The customers can easily scale the storage anytime according to their needs.
Pricing
The pricing range of the Vultr cloud platform starts from $2.50 monthly. But it depends on the products and features you buy. It varies according to the resources you need to buy for your cloud infrastructure to run your applications.
Alibaba Cloud is a Chinese cloud computing platform that was introduced in 2009. It is a subsidiary of Alibaba & the name also knows it of 'Aliyun' among users. Alibaba Cloud or Aliyun is amongst the top companies which offer mobile cloud computing services with extraordinary features and services.
The scalable cloud platform helps you deploy and manage your applications on a cloud-based platform by acquiring the resources according to your cloud requirements. According to the StackShare, FullStack and Shimo Website are leading companies that are using Aliyun.
Core Features
Security — Alibaba Cloud provides an extended set of security features to protect the users from different cyberattacks. It provides security features like Anti-DDoS, Web App Firewall, and different other data protection services for the sake of security.
Scalable & Flexible — Alibaba Cloud does not restrict buyers with a particular package. Or force them to make a contract to get mobile cloud services. Luckily, it uses a pay-as-you-go rule where users can acquire the resources anytime according to the requirements and pay for them.
Hybrid Backup Recovery — Undoubtedly, in case of data loss, users can get their data recovered from the backup storage of Alibaba anytime.
Pricing
As we have already mentioned, Alibaba Cloud follows the pay-as-you-go rule. You can use the resources according to the need and pay for it. You do not need to buy a package to deploy and manage your applications on the cloud.
Amazon Web Services is one of the largest mobile cloud service providers with a 32% share in the cloud market. Amazon Web Services provides a scalable and reliable cloud infrastructure for the developers to build, deploy and maintain their applications.
Intricately claims that Netflix, BBC, Twitter, Facebook, and LinkedIn are major customers of AWS services.
Core Features
Data Encryption — Data Encryption is one of the most useful techniques of data protection. AWS encrypts all of your data. If anybody gets access to the data, he won't be able to understand it. The encryption key for each customer cannot be cracked, and your data remains safe.
AWS Cloud Trail — Cloud Trail is the feature of AWS which helps you track all the API calls. You can easily navigate the use of your resources through this brilliant AWS service.
Performance & Money-Saving Recommendations — AWS Advisor is one of the most helpful features for saving money & improving performance. It recommends how to save more money and improve performance.
Pricing
AWS asks you to pay for the services and resources that you want to use. You can also use 'AWS Pricing Calculator' in this regard.
Microsoft introduced its own cloud computing platform with the name of Microsoft Azure in 2010. Microsoft Azure is one of the most reliable mobile cloud platforms. It provides numerous cloud services with mobile computing features to empower mobile-based applications and websites.
StackShare reports that around 4437 companies stated on their platform about using Azure. The known customers of Azure are GoDaddy, Starbucks, and MasterCard.
Core Features
Caching — Caching is one of the most important factors to improve the performance of any application. Microsoft Azure provides the feature of caching to boost the app's performance.
Scalability — Microsoft Azure grants scalable cloud-based infrastructure for the customers. It helps the customers to use the services that they need. Furthermore, they can buy any resource anytime.
3500+ Security Experts — Microsoft Azure values the customers' security and data protection. They have hired more than 3500 security experts to maintain security and data protection.
Pricing
The pricing of Azure also depends on the requirements & resources that you need. You can use the 'Azure Calculator' to anticipate the mobile cloud computing services' cost for your project.
Backendless is another useful mobile cloud computing platform that has created ease for developers. As the name suggests, you do not need to know much about backend technologies to build applications.
In short, this is a BaaS app development platform featured with cloud computing services. Dell, Vodafone, and Kellogg's are major clients of Backendless.
Core Features
UI Builder — By using Backendless UI Builder, you do not need to worry about the backend. You can easily design and develop the frontend by using the components & blueprints without writing any script or code. You only need to drag and drop the elements to design the UI.
Push Notifications — You can easily send customized and targeted push notifications on the applications using this useful feature of Backendless.
Manage API Services — You can easily develop, deploy and manage highly scalable API services using Backendless cloud computing services.
Pricing
You can start your journey on Backendless by using a free cloud package with limited resources and services. However, you can also request pricing for Backendless Pro and Managed Backendless packages.
Conclusion
Different surveys of Gartner predict that the use of cloud adoption is accelerating gradually. Especially remote work after the Covid-19 pandemic enhanced this trend among big enterprises. Withal, it is still difficult to pick the right mobile cloud provider.
That's why we shared the top 10 mobile cloud providers with their core characteristics here. Hopefully, this article would help developers and companies choose the right mobile cloud provider according to their needs.
FAQ
What is a mobile cloud?
In conventional mobile cloud climate, apps, storage, and computing services are carried out from the cloud. Indeed, it uses a remote cloud server to deliver mobile services and applications.
What are the benefits of a mobile cloud?
– Flexibility
– Saves time
– Economical
– Scalability
– Security
What are the best mobile cloud providers?
– Back4app
– Firebase
– Heroku
– Digital Ocean
– Alibaba Cloud
– Linode
– Azure
– AWS
– Backendless
– Vultr