Top 10 CRM Tools for Startups
Customer relationship management (CRM) has become an integral part of modern business operations to build better rapport with customers.
It is undoubtedly significant for startups to retain and maintain target clients conveniently, and probably advanced CRM tools could be helpful in this regard.
Therefore, this article displays one of the top CRM tools for startups with their core features and pricing models. The list of features will include sales pipelines, managing customers, live chats, sales reports, business processes, customer journey, customer data, sales automation, social media, etc.
Please check below the CRM tools list:
Top 10 CRM Tools for Startups
Please find below ten of the best CRM tools for startups.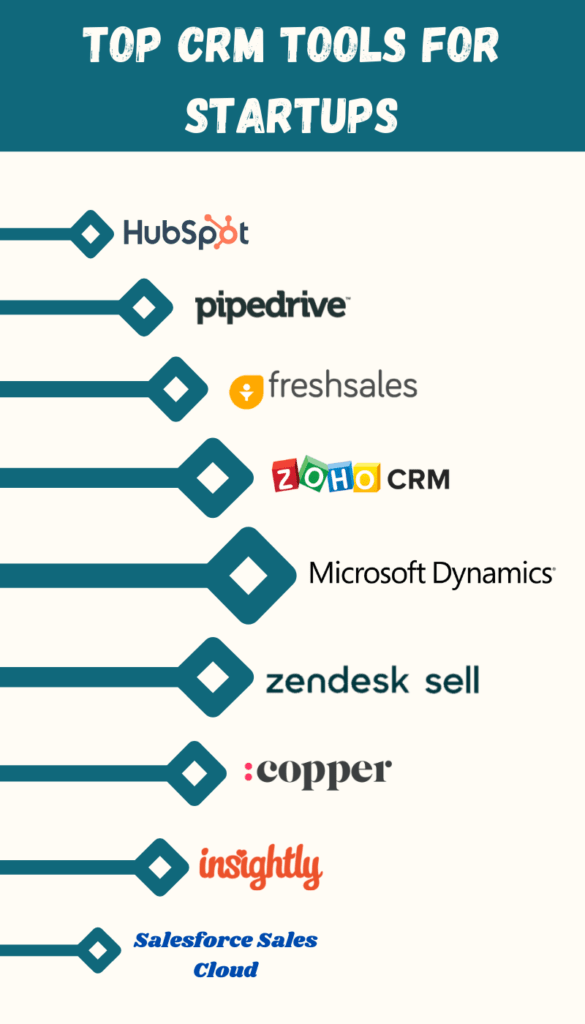 Pipedrive is one of the best cloud-based CRM tools for startups. This SaaS tool was launched in 2010, and now, it is being used by 95K companies around the world. It accomplishes 1 million automated tasks every week and can improve sales of young businesses up to 28%.
Features
Tracking Features — It is easy to follow all communication details, including contact history, email and calls, through this CRM. Similarly, it also enables the businesses to track working hours, tasks completed at a particular time and on a daily basis etc.
AI & Automation — Artificial intelligence permits young companies to automate constant tasks.
Data Protection — This CRM platform confers complete security when businesses deal with sensitive data. It also gives peace of mind to entrepreneurs.
Lead Generation — Pipedrive also supports successful lead generation. Custom email templates, web forms and chatbots are helpful in this regard.
Pricing
The basic plan of Pipedrive is known as Essential, and its charges start from $12.50 per month and user. The monthly price of its Advanced program is $24.90.
Zoho is basically a complete office suite that consists of project management, planning, scheduling, CRM and invoicing properties. Its startup tool to maintain customer relationship management is known as Zoho CRM, and around 250K businesses are using it.
Features
Lead & Deal Management — It provides dedicated contact details to startups to generate leads as a young company. With lead management, it also emphasizes finishing such business deals in a short span of time.
Workflow Automation — Zoho CRM utilizes automation functionalities to conduct repetitive tasks, mainly after lead confirmation.
Journey Orchestration — Through this property, it shows the complete flow chart of your lead generation and sale journey.
Pricing
It provides 4 types of plans to businesses. With mass email, custom dashboards and workflows, the monthly fee of its Standard plan is $14. Similarly, with SalesSignals and inventory management, this tool costs $23/month under its Professional program.
This is a cloud-based CRM platform that was made public in 2009. Insightly is definitely one of the ideal CRM tools for startups because of its user-friendly interface, affordable pricing model and smart features. Around 25,000 businesses are already associated with this platform.
The major companies that are using Insightly are Sanofi, Bloomberg and Bosch.
Features
Lead Routing — It uses automation capabilities to send emails and build leads in real-time. In addition, it also targets more potential customers during the lead generation process.
Relationship Linking — This CRM tool aids the teams to keep the record of the target audience and clients through linking functionalities in their databases.
Work Remotely — The best thing about this CRM tool is its app version. Yes, you can use Insightly in Android and iOS forms through your smartphones and can work from anywhere. Interestingly, business personnel can scan their business cards to access CRM data through its mobile app.
Pricing
Although the Plus plan of Insightly costs $29 per month and user but it is suitable for small businesses to proceed with its Professional plan. It only bills $49/month and grants plenty of features.
Freshworks CRM is another reliable startup tool that is famous among users because of its automation and sales properties.
Mainly, if you want to consume a free CRM tool for your startup venture, then it could be a good option for you. Yes, its free plan doesn't cost anything from teams.
By the way, Freshsales is the new name of its CRM and sales-centric toolkit. MTR, Blue Nile and Sify are prominent businesses that are using this CRM tool.
Features
Fast Deals — This CRM tool enables the teams to analyze customers in a 3600 view. So, they can close deals quickly with more information in hand.
Easy Integration — Quick connections with applications like PayPal, Zapier, Slack, PandaDoc, and Gmail are also advantages of using Freshsales.
Pricing
Its free plan covers built-in chats, emails, contact and account administration properties. The monthly cost of its Growth plan with existing automation tools is $15/month.
Microsoft Dynamics 365 is another trusted place that offers powerful CRM software to businesses of all sizes. It helps young companies in improving their sales, marketing and customer service departments through robust CRM approaches.
The major brands that are using this CRM tool are HP, BMW, Coca-Cola and Crate & Barrel.
Features
Insights — Dynamics CRM provides in-depth insights of customers to businesses. These details are not only helpful to track the customer history but also aids in decision making and BI procedures.
Better Relationships — It is not only a good platform for businesses but also a trusted portal where customers can make requests and see their data conveniently.
Great Visibility — To enhance your brand's visibility, it creates customized emails, messages, and chats to engage more customers.
Pricing
The monthly and per-user charges of Customer Service Professional and Enterprise are $50 and $95, respectively. However, with the Dynamics 365 license, you can also enjoy amazing discounts and reductions in prices.
Sales Cloud is a CRM platform that comes with the support of Salesforce. This CRM tool backs startups in customer support, sales and marketing activities. It is not only a good option to build relationships, but its magical features also aid in revenue and reps' growth.
Features
Campaign & Lead Management — Users can smoothly create events, emails, advertising and telemarketing ventures to perform campaign and lead management activities.
Process Automation — With drag and drop functionality, businesses can automate different operations. Its visual workflow is also beneficial for new teams to conduct various activities.
Dashboards and Reports — It also provides a variety of dashboards and reports to present a real-time picture of your business.
Pricing
The Essential plan of Sales Cloud offers limited features with monthly charges of $25. Withal, it is good for startups and SMEs to go with its Professional plan that offers all CRM capabilities. The monthly bill of this program is $75.
If you are looking for an advanced CRM tool with the support of a trusted SaaS company, then you should consider Zendesk Sell. It doesn't only emphasize customer relationship management but also enhances revenues and sales.
Features
Email Intelligence — It smartly handles email notifications, creation, tracking and automation. It uses Sell UI and company tags in this regard.
Analytics — This CRM presents the analytical data in more than 20 chart types for ease of business. Moreover, its forecasts also enable the team to improve its sales strategy.
Native Dialer — Its native dialer also assists the companies to dial, record calls and send text messages to generate more leads.
Pricing
The monthly charges of its Sell Team plan are $19. Unluckily, this plan is only applicable for up to 3 paid users. To get CRM service for unlimited paid users, you can consider its Sell Professional plan with a monthly cost of $49.
HubSpot CRM is also a good choice if you are in search of a reliable customer relationship management platform.
It is definitely a trusted CRM vendor with a user-friendly dashboard, real-time data visibility, and 20 million business contact details.
The major companies that are successfully utilizing this sales and CRM software are Purple and Atlassian.
Features
Universal Inbox — Startups can deal with all of their customers in a single chat window that is known as a universal inbox.
Ticketing & Help Desk — Its ticketing and help desk systems are also very effective to keep your clients happy with your customer services.
Pricing
The charges of its Starter plan begin from $45/month, and it is applicable for 2 paid users.
Daylite is a perfect CRM solution if your sales team is using Apple devices like Mac, iPad and iPhone. It functions very well with built-in Apple applications. Mainly, this CRM software aids small companies to build relationships with customers.
Features
Smart Work — It helps teams to work smartly in a short duration. It doesn't matter how small or big your startup team is.
Control Permissions — Entrepreneurs can edit permission anytime.
Pricing
This CRM software offers a flat rate and charges $39.99/month from its users.
If you are commencing your startup journey with an inexperienced team, then you must consider Copper CRM. Its user-friendly interface and Google Workplace integration help the novices a lot to conduct CRM tasks.
Features
Trusted Vendor — With more than 25,000 worldwide clients, it is a trusted name among CRM vendors.
Contact Organization — It perfectly administers the contacts with necessary and key information in spreadsheets and other formats.
Pricing
The charges of its Basic plan are $25/month. For a Professional plan, you will have to pay $59 per month.
MailChimp also provides CRM tools, an excellent option for startups. The onboarding process is simple, and you need to connect your contact data, organize it, understand patterns, and turn the audience's insights into proper actions.
Features
Audience dashboard
Segmentation tools
Contact profiles
Pricing
Free
Essentials – Starts at $11/month
Standard – Starts at $17/month
Premium – Starts at $299/month
BIGContacts by ProProfs offers a robust range of functionalities that strengthen customer relationships and help businesses thrive in a competitive marketplace. This intuitive tool is highly customizable and affordable, making it a popular choice for growing businesses.
Features
Contact & Lead Management– It offers a 360° view of contact records, helping your drive personalized interactions easily. A customizable pipeline with a drag and drop interface is also provided for lead tracking and management.
Automation- The CRM tool lets you automate repetitive administrative tasks, set up reminders, and create workflows with multiple steps and triggers. You can also use it to set up automated drip email campaigns for better customer engagement.
Task Management- It provides detailed tasks and to-do lists to help you prioritize and complete tasks efficiently. The tool also offers comprehensive calendars for improved task management.
Reporting & analytics- It offers a range of reporting options, including pre-built standard reports and advanced filters for custom reports. You can also save and export these reports as per your business requirements.
Pricing
BIGContacts offers three different pricing plans named BIG, BIGGER, and BIGGEST, billed annually at $5, $15, and $25 per user per month. An enterprise plan with unlimited contact and storage capacity is also available at custom pricing.
Conclusion
Customer relationship management is very important to extend the customer base and revenues. Our list of top CRM tools will help startups and small businesses to make the right decision in this regard.
Please read the article The Best Startup Tools to Scale Your Business to discover other amazing tools.
FAQ
What is CRM?
It is software for handling all your businesses relationships and interactions with customers and possible customers.
What are the advantages of CRM?
– Better customer service
– Discovery of new customers
– Increase customer revenues
What are ten of the best CRM tools for startups?
– Pipedrive
– Hubspot
– Freshsales
– ZohoCRM
– Microsoft Dynamics
– Zendesk Sell
– Copper
– Insightly
– Salesforce
– Daylite
– MailChimp CRM
– BIGContacts