The Best mBaaS Providers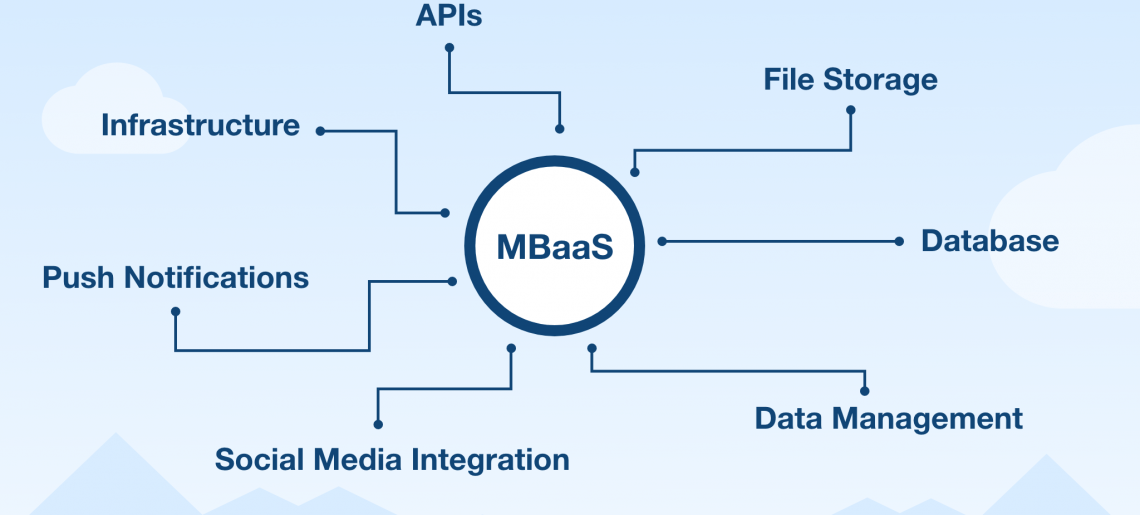 mBaaS providers: Top 10 options
Even though Mobile Backend-as-a-Service mBaaS providers have been around for a few years only, yet they have become very powerful and have already started evolving as the market is consolidating with the middlemen converging.
Today, mobile is much more than just the apps that it offers. Modern-day apps consist of a variety of services including push notifications, APIs, analytics, data, security, authentication, and the list goes on. mBaaS basically acts as a bridge for developers, giving them access to tools that they can use to optimize mobile apps for all of the above-mentioned capacities.
But if you're a start-up founder or an entrepreneur on the look-out for a mBaaS right now, you might be wondering what the current landscape is like. For your ease, listed below are the key mBaaS providers:
With more than 80,000 apps, Back4App is a mBaaS which is based on an open-source framework. It is easy to use, flexible and scalable. People looking to host their Parse projects are found to be using Back4App because of its simplicity and exciting features. It has very simple pricing structures and the pricing structures can be customized according to the needs. The customer support is always there to support you with your queries. Some real-life mobile app examples developed with Back4app are Hotel Apps, Social Network Apps, and e-Commerce Apps.
Parse was a mBaaS which was originally developed by Parse, Inc and later on acquired by Facebook in 2013. However, Facebook couldn't keep this project going and decided to open-source in 2016. Since that date, Parse became an open-source platform. Since then, it has emerged as an open-sourced platform with its own community and blogs.
Firebase Inc.'s mobile and web development platform was acquired by Google in 2014. In 2016, the first reveal of the core tools and services was made in Google's developer conference. Firebase is running all good as most of the services offered are free of cost. The services that cost some money are a few namely Realtime, Database, and Hosting Services. Google is famous for making things easier for new learners. So, if you're new to this mobile servicing concept, try using Firebase.
When it comes to cloud solutions, there is only a king in the arena and that is Amazon Web Services(AWS). The core cloud services offered by AWS Mobile Services are more focused to be mobile-specific. The AWS services are available on their website easily. Every service available on the website is basically operated through the Mobile Hub. Although AWS's portfolio matches a lot with Firebase it is more about advance app development. AWS doesn't come free and is narrowing down its focus on mobile development teams that are managing apps for a large number of users.
Just like every other tech giant, Microsoft is also making its presence known in the mBaaS arena. Microsoft is using its own tools and the services they are providing are very much in competition with Amazon Web Services. As evident by its early reputation, Microsoft's Azure supports authentication, push notification services and database.
Built.io is another mobile backend as service providers which happens to have a pluggable architecture that enables you to build everything that you require in your database. The platform uses SDK to make a connection between your app and its servers. After the connection, it just becomes your own datastore and hence you can use every service they provide as mBaaS.
Sencha is a UI library that has mobile web development as its main focus. Developers use it to develop apps containing UI which looks more like the original UI of the device. It is basically based on JavaScript, CSS3, and HTML5. The main goal of Sencha is to expedite and help in getting more HTML5 based mobile apps that are compatible with Android, iOS, and Windows. The original look that it offers to the apps is the reason why people tend to opt for Sencha while developing user-friendly and customer-based apps.
Appcelerator has two main products namely Titanium and the Appcelerator Platform. Titanium is an open-source software development kit for cross-platform mobile development. Meanwhile, the Appcelerator Platform is a software which offers:
Development by using JavaScript,
mBaaS, mobile automation, and mobile analytics.
According to a Business Insider's report in 2013, almost 10% of the apps worldwide are based on Titanium.
Kinvey is a service that provides support for the broadest number of platforms. As a mBaaS provider, Kinvey supports Android, iOS, Xamarin, PhoneGap, Titanium or even HTML5. individual developers can start using this mBaaS provider without any cost. Its core features include data store, data modeling, user authentication, push notification, app encryption, security, micro-services management, cloud caching, location awareness and business logic. As a customer-focused mBaaS provider, Kinvey stands out from the competition because it offers detailed tutorials and helps documents so that you can get on with the development process quickly and on your own.
Backendless is a cloud-based platform that gives an edge to developers to develop apps without getting in the hassle of server coding. It does so by allowing the developers to make use of the programmable services which contain some standard server functions. Not bad, right? Backendless supports features like:
User management,
Relational data,
Push notifications,
Publish/subscribe messaging,
Geolocation,
Video/audio recording and Live streaming on the server,
File service.
Conclusion
Summing up, all of the above mentioned mBaaS providers will definitely make mobile app development extremely easy for you. Although all the mBaaS providers have sound platforms to back them up, yet, certain factors like pricing and features make the final choice a trade-off between the various options.
Want to know more about BaaS companies? Please read:
What is a BaaS – Backend as a Service?
What is mBaaS?
mBaaS stands for Mobile Backend as a Service acts as a bridge for developers, connecting the fronted to the backend via APIs and SDKs. To know more, please read BaaS | Backend as a Service.
What are the best mBaaS providers?
The best mBaaS providers are:
– Back4App
– Parse
– Firebase
– AWS Amplify
– Azure Mobile Apps
– Built Io
– Sencha
– Appcelerator
– Kinvey
– Backendless.