Project Management Tools for Startups
Project management is crucial for businesses to manage the organizational resources to accomplish different tasks and duties. Nowadays, companies are getting much help from advanced project management tools to plan, monitor, complete and execute their projects.
Withal, it is difficult for startups to shortlist a single tool in this regard. That is why we are sharing one of the top project management tools for startups with their core competencies and pricing models.
Top 10 Project Management Tools for Startups
Here are ten of the best startup project management tools. Their list of features include resource management, project scheduling, task lists, collaboration tools, file sharing, etc.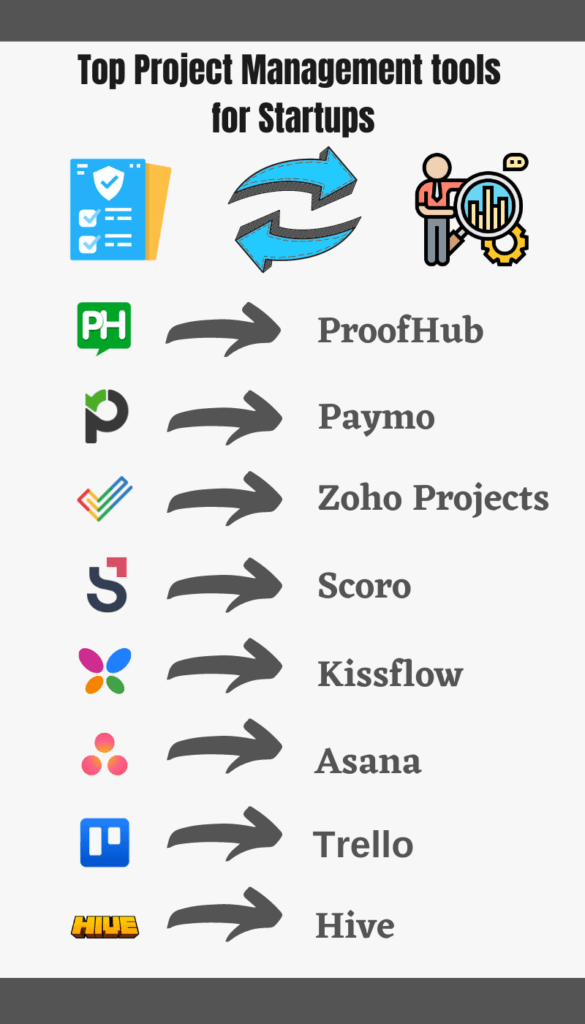 With the robust backing of Atlassian, Trello is the finest project management tool that was launched in 2011.
This platform provides cards, boards and lists to business teams to organize different tasks and projects more productively. More than 1 million business teams have shown their trust in this tool.
The big companies that are using Trello are Google, Squarespace, Fender and Costco.
Features
No-Code Automation — Teams can surely focus on core competencies with Trello because it provides great automation features like deadline notifications and list moving. Luckily, businesses don't need any coding to benefit from these automated functions.
Integration — To manage your project in an intelligent manner, you can connect this app with third-party tools like Slack, Google Drive, Dropbox, Evernote and much more.
Advance Checklists — Users can include all important lists in the calendar view to clearly inform teams about everything. Trello cards and boards are also very useful in this regard.
Pricing
It is free to use Trello for 250 monthly workspace commands. But for 1k monthly commands, you can consider using its Standard plan that starts from $5 per month and user.
ProofHub is an ideal all-in-one project management tool that more than 85k business teams have been utilizing for years.
This platform provides all functionalities from organization to delivering a project. Startup companies can also proceed with its free trial version without adding a credit card.
NASA, Netflix, Pinterest and Nike are the major companies that are using ProofHub.
Features
Planning Tools — Project planning is seamless with ProofHub because of the presence of tools like Gantt charts, Kanban boards, table view, custom workflows and roles.
Easy Collaboration — It is effortless to collaborate with teams with the help of ProofHub properties like mentions, emails, chats, discussions, emails and announcements.
IP Restriction — Companies with security concerns can also permit the data access to elected Ips only.
White Labeling & Integration — Startups can completely customize their ProofHub account by using their logo and domain. Similarly, they can also smoothly connect their account with third-party apps.
Pricing
This project management tool offers a flat pricing model instead of per-user fees. The monthly cost of its Essential plan is $45. Under this plan, companies can run 40 projects and utilize 15 GB of storage. The monthly charges of its Ultimate Control plan are $150.
Paymo is another reliable project management tool that startups must consider to complete their tasks. This work management software has already administered around 2.12 million projects and billed 2.08 billion USD to its clients.
Features
File Proofing — This platform is not only good in handling tasks but also offers file proofing. Paymo leaves threaded comments, audits file versions and grants actionable feedback in this regard.
Task Management — Task management is very simple with Paymo. With pre-built properties, entrepreneurs just need to prioritize the tasks, visit the team's task and chat with the group in real-time.
Kanban Board — Almost all renowned project management platforms are providing Kanban board because of its advantages. Luckily, startups will also find an easy to customize Kanban board on Paymo. It builds workflows with great clarity.
Pricing
With a user limit of 10, it is entirely free to use Paymo. However, without a user limit, it awards 2 plans: Small Office and Business. The monthly fees of these plans are $9.95 and $15.79 per user.
Kissflow is a Chennai-based digital workplace that confers businesses' appealing workflow and process management products.
This cloud-based project management platform is offering products in 13 languages. Yes, you can't only operate this tool in English but can also utilize it in Japanese, Russian, German, Korean, French and Brazilian languages.
Pepsi, Flipkart and Domino's are the notable customers of Kissflow.
Features
Automated Functions — Kissflow awards businesses no-script workflows, drag and drop forms, deadline notifications and dynamic appointments under its automated features.
Easy Customization — Businesses can control all aspects of project management, including API integration, auditing, user management and formatting with this tool.
GSuite — It also provides GSuite with Digital Workplace to enhance the efficiency and productivity of projects.
Pricing
Startup companies can proceed with its Free plan with some usage limits. Howbeit, to access Kissflow without any usage limit, you can consider using its Basic and Advanced programs. Its Basic plan bills $5 per user and month. Similarly, its Advanced plan costs $12/user/month.
If you are looking for award-winning and renowned project management software for your startup, then you shouldn't ignore Zoho Projects.
Around 200K businesses are using this cloud-based project management tool because of its easy solutions, user-friendly interface and significant integration characteristics.
Dell, TATA, Stanford University and Vodafone Group are major clients of this software.
Features
Task Management — To improve task management procedure, it cuts the project into small milestones. Gantt charts, calendars and Kanban board cards also aid companies in easy task management.
Team Collaboration — Compared to other tools, it grants some exciting tools like forums and Facebook like feed interface to improve team collaborations.
Pricing
For 3 users and 2 projects, it is freemium software for businesses. But, for up to 50 users, you can consider its Premium plan. Its monthly and per-user charges start from $5.
Wrike is a California-based project management application service that was made public in 2003. This app gives startup teams a 360o view of workflows and tasks. Moreover, businesses can also use this tool for iOS, web and Android platforms.
Features
Highly Scalable — It is incredibly easy to extend your resources and projects with Wrike. That is why 20k customers are satisfied with its services. The big names that are benefitting from Wrike are Google, Lyft and Okta. In simple words, startups can enjoy their growth with Wrike.
Customizable Tools — You will find all customizable tools, including request forms, dashboard and workflows here.
Pricing
Although small business teams can start their journey for free with Wrike. But per user and month charges of this tool begin from $9.80 under its Professional plan.
If you want a fast, user-friendly and customizable project management tool for your startup, then you can consider Hive. With 1000+ app integrations and appealing team collaboration features, it is a good choice for SMEs and large businesses.
Features
Resourcing — This feature permits the team leaders to analyze the performance of every task assignee carefully from A to Z.
Shared Inboxes — Members can also approach shared and multiple inboxes to get all details of current projects.
Pricing
Hive Solo is entirely free for up to 2 users. However, for unlimited users, the monthly cost of the Hive Teams plan is $12.
This is also a reputed project management platform that was designed in 2008. Startups can use both mobile and web versions of this tool according to their ease. It doesn't only assist managers in project completion and organization, but it comes with the aim of better alignment, grouping and management.
Features
Reporting — It gives automated reports in your inbox, prioritizes your daily tasks and provides real-time updates regarding different projects.
Subtasks & Milestones — It divides the projects into small sections and names them as subtasks. Members share their progress in the form of milestones.
Admin Control — It grants extraordinary admin control features. Team leaders can improve data security, disable or enable comments, invite guests and modify permissions anytime.
Pricing
Startups can use Asana free forever with 15 teammates. But if your team members are more than 15, you can go with the Premium plan after paying $10.99/month/user.
This is an all-in-one Software as a Service (SaaS) tool that can aid startup companies in project management.
This London headquartered company doesn't only assist in project management, but you can also find all finance, CRM, sales and integration tools under the same roof.
Features
Real-Time Gantt Charts — Entrepreneurs can examine the employees' logged hours, task performance and further tasks through an instant Gantt chart.
Utilization Report — It delivers a thorough utilization report of every member. So, it becomes easy for leaders to assign tasks to different members according to their core competencies and capacities.
Pricing
It doesn't offer any free plan. The monthly charges of its Essential and Standard programs are $26 and $37 per user, respectively.
Basecamp is also an ideal project management platform for remote teams. This company has been facilitating businesses since 1999. If we talk about its growth, only 3.5 million accounts signed up for Basecamp in 2021.
Features
To-do Lists — Making to-do lists is very smooth with Basecamp. Even users can attach files and track the tasks through Hill Charts.
Docs & Files — This section of Basecamp is unique and well-composed. Whether you are an experienced employee or a new member, you would love this section of Basecamp.
Pricing
This project management platform only confers a flat charge of $99/month under its Basecamp Business plan.
Teamly is an all-in-one solution for managing projects that help remote teams stay organized and work well. With its intuitive interface and powerful features, Teamly simplifies task management, progress tracking, and collaboration for startups and businesses.
Features
Real-time Chat and Collaboration – Teamly offers instant messaging and virtual chat rooms for team members to communicate effectively and work together in real-time, regardless of their location.
Kanban Boards for Workflow and Task Management – The platform's user-friendly kanban boards allow businesses to create custom workflows, prioritize tasks, and manage projects with ease.
Employee Time Tracking and Monitoring – With built-in time tracking and monitoring features, Teamly helps businesses keep track of employee productivity and manage payroll more efficiently.
Screen Capture Video and Audio Recording – Teamly offers the ability to record screen captures with audio, making it easier for team members to communicate and provide feedback on tasks and projects.
Professional Checklists and Standard Operating Procedures (SOPs) – Teamly provides businesses with pre-built checklists and standard operating procedures (SOPs), ensuring that teams adhere to best practices and workflows.
Pricing
Teamly offers two paid options: Teamly Pro and Teamly Business. Teamly Pro is $5 per user per month and Teamly Business is $9 per month. Both tiers come with a 14-day free trial.
If you are looking for a SaaS Project management tool that has all the features you need to manage multiple projects for different clients then, the DashClicks Projects tool is what you are looking for.
This amazing project management tool is every agency's dream as it integrates all the platforms in one single dashboard where you can get real-time updates on your projects. 
Features
Auto project creation and onboarding feature makes it easy to get clients onboarded and get on with the fulfillment.
In-built automation and analytic features make tracking, reporting, and analyzing a breeze.
Get in-depth analysis report on clients' marketing campaigns including SEO, PPC, and social media marketing campaigns.
Customize reports with specific KPIs that clients want to increase customer satisfaction.
Easy to handle all the sub-accounts under your client with all the data at one place, reducing confusion and complications.
It also helps you implement changes to all the accounts in one go rather than manually working each sub-account.
Integrate third-party apps to merge them with your existing ecosystem easily.
You can also get multiple, plugins and customizations to make your workflow smoother and more efficient with this amazing tool.
Pricing
You can opt for the tool's free version that comes with 100 MB file storage, 2 member seats, and complete access to all of DashClicks' in-built apps. However, if you are looking to scale and have a larger client base, the plus or premium versions will be a better choice.
With the plus version, you get unlimited sub-accounts, 10 member seats, and 100 GB of file storage. The premium version includes 20 member seats, 250 GB of file storage, and additional features like custom filters, tags, properties, and automation tools to make your project management faster and more effective.
You can also opt for annual plans if you're looking for a more cost-effective option for your agency
Conclusion
Project management is undoubtedly not easy, mainly for young companies. Hopefully, our list of best project management tools will help startup businesses in this regard.
To know more about productivity tools, please read the article Grow your business with these startup tools.
FAQ
What are ten of the best project management tools for startups?
– Trello
– Proofhub
– Paymo
– Kissflow
– Zoho Projects
– Wrike
– Hive
– Asana
– Score
– Basecamp
– Teamly
– DashClicks Projects