Looking for a reliable Parse Alternative? Here's the choice of most Parse users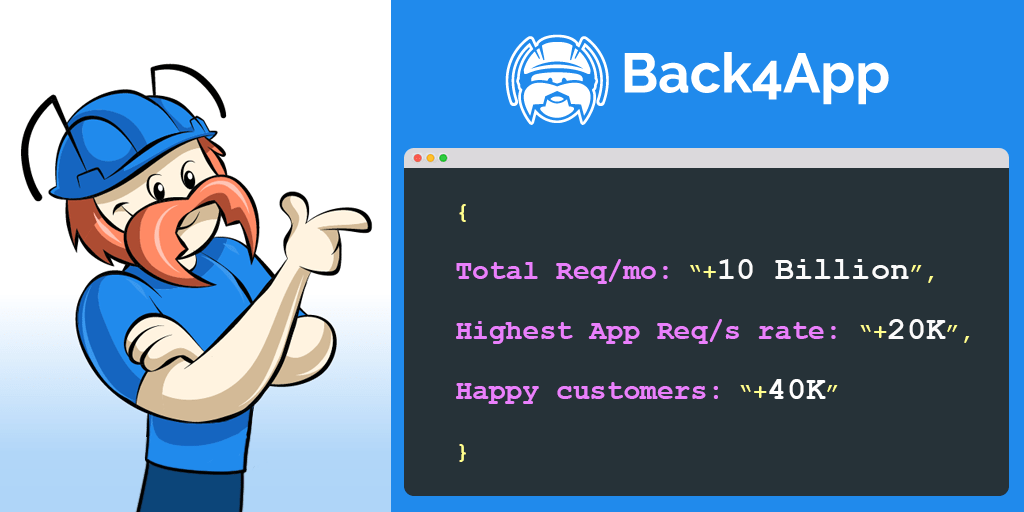 Four years since Facebook open-source the Parse framework. The Parse developer community is even stronger now and new features are being released constantly. For example, a beta version of GraphQL APIs were made available in 2019 and the production mode is ready to use in 2020.  
There's no denying the fact that finding an ideal replacement for Parse is probably tricky. While there are numerous options in the contemporary market, only a handful of them is trustworthy and reliable. Back4App is one such alternative that has been consistently attracting developers' attention at an astounding rate.
Over the past few years, Back4App has successfully proven its worth in the development sector and has become the first choice and the biggest parse platform in operation with more than 40k happy customers worldwide and over 500 million connected devices.
Fascinating, isn't it? Well, there's more to it!
Presently, Back4App is processing more than 10 billion API requests every month and for some Apps, we are processing an astonishing rate of 20.000 requests per second. In this article, we'll elucidate some key facets of Back4App, which gives it a competitive edge over its fellow rivals and makes it the best Parse Alternative for developing scalable and extensible applications.
A Complete Serverless Approach
Back4App is a Parse Hosting platform which empowers developers to create, deploy, and scale their backend using an inclusive serverless methodology. Its serverless architecture allows you to focus primarily on app development instead of worrying about configuring and managing servers.
Using this serverless platform, you can develop apps at lightning speed without worrying about routine server maintenance, build your own backend without any code, host your apps with no infrastructure hassles, and scale apps without any technical locks.
Several key advantages of serverless database platforms include:
No Server Maintenance
Automatic and Flexible Scaling
Built-in availability
No Payment for Idle Capacity
Easy to operate and maintain
It's no secret that managing your own servers is one of the biggest challenges you could ever face in mobile app development. It is an extremely daunting task and can cost a fortune; however, the burden can be reduced by using a reliable serverless database platform like Back4App. Click here to learn more about serverless.
Hassle-Free App Scaling
Back4App's cloud structure is designed in a way to provide you a trouble-free scaling experience. It provides you an exceptional NodeJS framework for building and scaling your app. More than 50k mobile apps access the Parse Servers every minute at Back4App. Now you must be wondering what makes Back4App the best parse-compatible product. Well, here's the crux.
Our clinically developed  Parse Server Scaling Architecture allows us to easily scale your app based on your specific needs. We've scaled several Parse Server apps up to 20k requests per second, which is far beyond the limits imposed by various other black box backends. We've made this possible by staying in total control of your backend and avoiding numerous locks and limitations that come with Black Box Solutions.
Choosing Back4App as your scaling partner frees you from the worry of finding the correct balance between horizontal and vertical scaling, or validating the best server instance on your cloud provider.
Parse Hosting in Any Cloud Environment
The biggest advantage of using Back4App as your backend service is that it allows you to deploy your Parse Server instance on any cloud environment, for example, the shared cloud servers, the dedicated cloud servers, or your own cloud servers such as AWS, Azure, or Google Cloud. This allows you to use the best infrastructure according to your specific needs while avoiding problems such as latency.
If you're a hard-core Parse developer or have the skills to become one, then you can also build your own infrastructure optimized for your app and host Parse Server. Also, you can opt for a Cloud solution in case you think it will perform better.
Long story short, you can easily bring your Parse Server self-hosting app to Back4App, without any technical hitches.
Most Active Contributors to Parse Server Repository
Another aspect that makes Back4App the biggest Parse platform in operation is its active and consistent contribution to Parse Server repository. It's no secret that Parse Server is one of the most popular open source frameworks with a very active and large community of more than 100k developers. Currently, it has over 143 contributors (including Back4App) and more than 14k stars on GitHub.
Add-On Features
Back4app adds several amazing features on top of Parse Open Source. Here is a list of what you will find using Back4app:
Multitenant Dashboard
Scalable infrastructure
Transfer Application
Clone Application
Administration Panel
Push-Notifications at Scale
Version management
Logs viewer
Collaboration tools
CLI – Command Line Interface
CDN – Content Delivery Network
Automated backups
Index manager & Automated indexes
Two-factor authentication
Security settings
GDPR Privacy Requirements
To know more, please read Parse vs Back4app.
Easy & Smooth Migration
Back4App provides you with a migration process which allows you to migrate your database and keys from other platforms to Back4App, and this process hardly takes a few minutes. It creates a synced copy of your current database while copying your Parse Server Config details, including Files, Push Certificates, Cloud Code, and more. This process helps keep your app running in the Back4App BaaS, without much hassle or performing any major changes on your app integration.
The Best Support Team
Back4App comprises a team of talented, skilled engineers, developers, and consultants who dedicatedly work 24*7 to help you extract the best from your Parse Server. We are experts when it comes to helping you optimize your queries, migrate specific Parse Server architectures, and migrate from other Parse Hosting providers.
Final Words
Choosing a reliable and secure Parse Hosting service is vital in today's increasingly competitive development era. This is where Back4App comes into the picture, making you forget boilerplate code and infrastructure hassles and focus primarily on what truly matters to your application. To conclude, Back4App has what it takes to be the best Parse alternative. So, if you haven't used it before, don't wait any longer! Sign Up now for free and take your app a notch higher.
Is Back4app a Parse alternative?
Yes! Back4app is the most used Parse hosting service and we run thousands of app in our infrastructure.
Whats the differences between Parse and Back4app?
On top of the open-source framework Back4app provides:

– Multitenant Dashboard
– Scalable infrastructure
– Transfer Application
– Clone Application
– Administration Panel
– Push-Notifications at Scale
– Version management
– Logs viewer
– Collaboration tools
– CLI – Command Line Interface
– CDN – Content Delivery Network
– Automated backups
– Index manager & Automated indexes
– Two-factor authentication
– Security settings
– GDPR Privacy Requirements
Does Back4app offer support?
Yes! We provide 24/07 support services.