Parse Alternatives – The Best 10 Options
Opting for a reliable mobile application backend is quite important for any business today. Development teams around the world prioritize platforms such as Parse for the level of functionality it offers to users. While Parse is a top backend option, there are many alternatives worth looking at. Take a look at the best Parse alternatives below.
Parse Overview
Parse is a backend as a service platform providing users with SDKs that facilitate efficient mobile backend development for multiple platforms.
This open-source framework is a dependable option for the development of agile Android, iOS, Windows, JavaScript, and OS X applications. The platform, which has the support of a vast community of developers. Parse can be used for developing web and mobile backends that are scalable and high-performance.
Parse users can be free from having to perform server management and can focus on key development tasks. It offers many valuable features such as APIs, push-notifications, data storage, and file storage.
The technology offered as part of this platform has many use cases such as social networking, streaming, e-commerce, payment, IoT applications, games, and CMS offerings.
Parse has a large number of use cases across a wide array of sectors. These include – CMS, games, restaurant management apps, major social platforms including Facebook, emergency services, streaming apps, food delivery, and cab service apps, messaging apps, e-commerce apps, real-time payment apps, and educational apps.
Some Parse Features
Push notifications is a feature through which users of an application get automatic notifications when they do not have the application open. This feature can be used suitably as a marketing tool to help application owners reach out to their entire userbase. Parse users are able to send push notifications on both Android and iOS devices.
Social login is another key feature of Parse and is generally enabled by relying on third-party authentication. Parse enables users to organize and simplify how they perform authentication with Twitter, LinkedIn, Facebook, and other platforms.
Parse lets its users utilize automation mechanisms for the purpose of email verification. This feature helps to facilitate email address verification and password resetting.
Using Parse adapters enables users to perform data storage and host files across different service providers like AWS, Back4App and Google Cloud.
Using Parse adapters enables users to perform data storage and host files across different service providers like AWS, Back4App, and Google Cloud.
Parse users also can send live queries for enabling simultaneous updating of a record by multiple users.
Top 10 Parse Alternatives
Back4app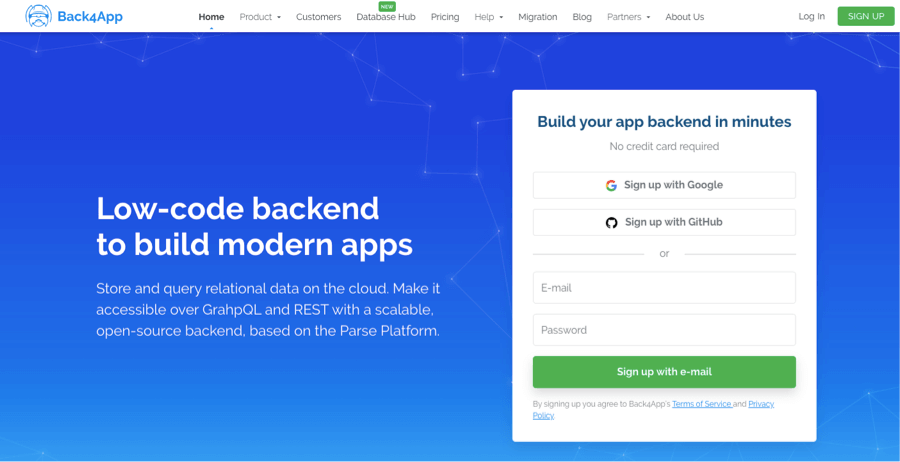 Back4App is one of the most popular backend services today and has been created atop the Parse framework. It is an open-source option and also a suitable alternative for the Parse backend.
Users choose Back4App for the level of flexibility, and ease-of-use it offers to them. It can be utilized for developing, hosting, and managing integrated platform applications. Back4App is a suitable Parse alternative for hosting web, mobile, and IoT application APIs.
Features
Back4App offers a robust database to help developers perform hassle-free application data creation, update, and synchronization.
Users have the option of utilizing both Rest and GraphQL APIs.
Back4App live queries help developers make use of queries to carry out data synchronization and storage in real-time.

Back4App's scalable hosting helps developers adjust hosting based on changing requirements.
Pricing
Free – It is the starter plan with 1 Gb of storage and data transfer, and comes with 250 Mb database and 10k requests.
Shared – The Shared plan of Back4App comes with several features such as multiple regions, daily backup and recovery, automatic scaling, and 24×7 monitoring. It has prices ranging from $5 to $100 every month.

Dedicated – The Back4App Dedicated plan provides multi-cloud, round-the-clock monitoring and dedicated virtual machines. You can avail the Silver plan for $250 and the Gold plan for $400.
Backendless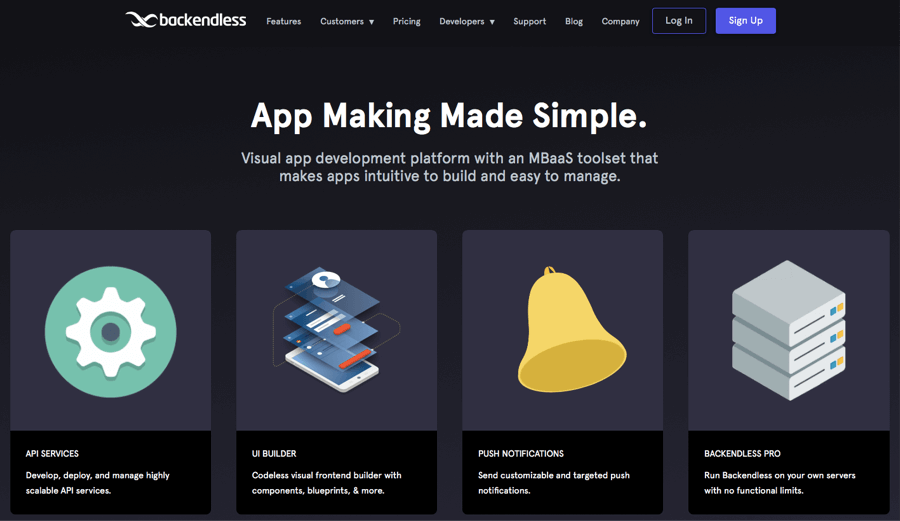 Backendless is a mobile backend as a service platform providing multiple powerful tools for accelerating development tasks. It is an open-source platform offering managed, cloud-based and dedicated servers and user-specified APIs.
Features
Backendless database is a feature that offers support for NoSQL and SQL.
Caching is a feature that enables developers to raise application speed and functionality.

Centralized log management is a feature for improving application efficiency.

Backendless features geolocation that helps developers to create applications that have geofencing and location awareness.
Pricing
Backendless Cloud – The Cloud plan of Backendless offers features such as push notifications, API calls, scaling, database tables, and more. Users can start for free but prices go up to $25 per month.
Backendless Pro – Backendless Pro is a plan that lets users rely on the platform through computer, private data centers and public cloud.

Managed Backendless – The Managed Backendless plan offers flexible pricing and users pay based on their requirements. It comes with uptime guarantee and no limitations.
Firebase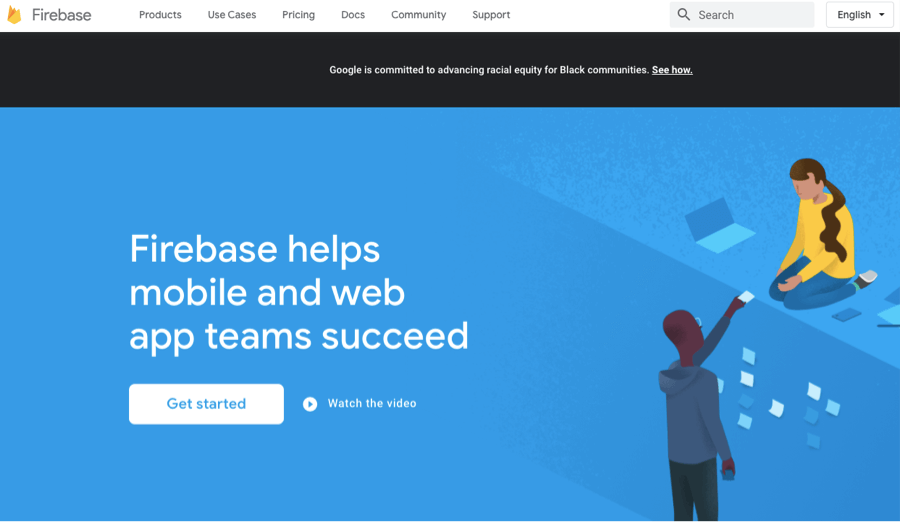 Firebase is a leading backend platform and one of the most popular Parse alternatives available today. It is Google's application development platform with multiple useful tools and features. Firebase uses JSON for data storage.
Features
Cloud Firestore is the NoSQL database of Firebase that enables data storage and syncing across both client-side and server-side programming scenarios.
Firebase provides fast and highly scalable features including one-click rollback, SSL protection and web application hosting.

The Real-time Database of Firebase refers to a NoSQL database that lets developers perform effortless data storage and syncing.
Pricing
Spark Plan – The Spark Plan offered by Firebasecomes with 10GB hosting, SSL, multiple sites and custom domains. Users of this plan get access to Firebase ML and Cloud Firestore.
Blaze Plan – The Blaze Plan of Firebase comes with all Spark plan features and some additional ones. They get services priced between $0.026/GB for hosting and $0.026/GB monthly for storage.
Kinvey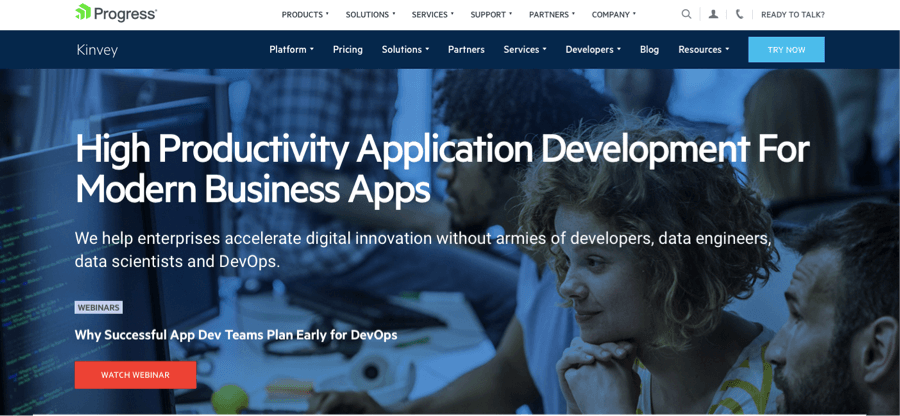 Kinvey is a serverless application development platform suitable for the development of multi-channel applications. It functions through a combination of cloud backend and SDKs.
Features
Kinvey has a serverless backend that enables developers to put in all efforts for creating optimal app functionality and user experience.

The code sharing feature of Kinvey makes it easy for users to develop cross-platform applications and handle code effortlessly.

Kinvey users can perform comprehensive angular development and enjoy complete access to native APIs.
Pricing
Starter Bundles – Kinvey offers 3 Starter Bundles – the Starter at $2,500, Starter Pro at $5,000 and Starter Max at $7,500.
Business – Kinvey Business is a plan for the needs of small businesses. It gives 3 developer access at a yearly rate of $15,000.

Enterprise – Kinvey Enterprise is a flexible requirement-based plan. It gives unlimited access to any number of developers, along with round-the-clock support.
Kuzzle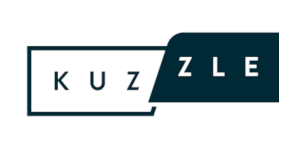 Kuzzle is an open-source backend platform with features like an admin console, server and API, multiple plugins for geofencing, and more.
Features
Kuzzle features real-timebpub/sub, which is a query language for developing event-driven apps.

The platform offers many powerful features to users despite being open-source.

Kuzzle also offers on-premises deployments and comes with horizontal scaling.
Pricing
Free – The free-of-cost plan helps users get the basic functionality of the platform.

Managed cloud edition – The managed cloud plan is available from $1200/month, and offers the most advanced features of Kuzzle.
Kumulos

Kumulos is a leading backend service provider that offers solutions for developing mobile apps that generate monthly recurring revenues. Users get a selection of features along with hosting for mobile apps.
Features
Kumulos offers push notifications to let app owners generate custom messages for targeting their customers.
Kumulos users get access to a reliable and scalable mobile backend setup with API integration.
Pricing
Startup – Startup is the base plan that also lets users avail Premium support at extra cost.
Enterprise – Kumulos Enterprise comes with various plan options at flexible rates depending on the services availed.
Agency – Agency is a Kumulos plan offering certain advanced features to enhance their application performance management requirements.
Heroku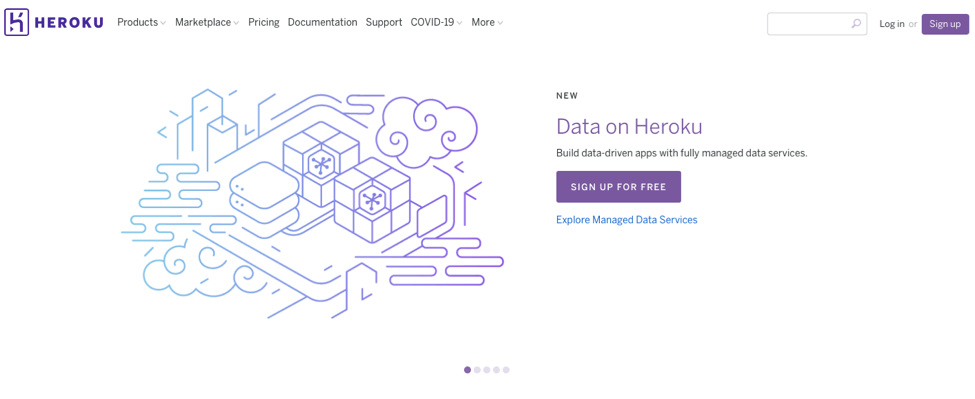 Heroku is a leading platform as a service provider that facilitates easy application development, management, and scaling.
It supports various popular programming languages like Python, Java, PHP, Ruby, Clojure, Scala, and Node.js. Heroku apps run on containers called Dynos.
Features
Heroku DX is an app-oriented delivery system that facilitates fast and effortless development.
Heroku OpEx helps developers find and fix existing application issues.
Pricing
Free and Hobby – Free and Hobby pricing starts at $0. It is the best option for developing non-commercial applications.

Production Plan – The production plan starts at a rate of $25/month. Prices vary based on specific development requirements.

Advanced Plan – The Advanced plan starts from $250/month and provides various advanced features.

Enterprise – This plan comes with a custom pricing structure for enterprise users that have higher security requirements.
CloudKit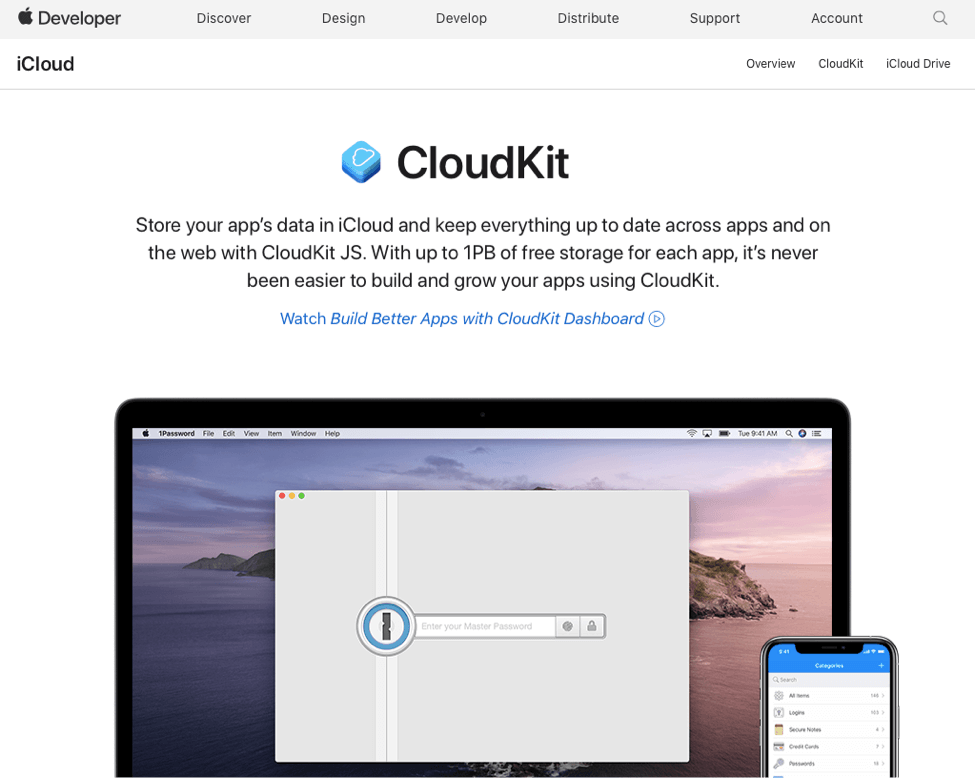 CloudKit is a BaaS offering from Apple and is mostly utilized for iOS application development. It is a framework that can power up Apple platform applications by relying on the functionality offered by iCloud.
Features
Automatic sync – CloudKit comes with automatic syncing to help users connect to new content with ease.
Powerful services – CloudKit lets users take advantage of several useful features to lay a strong focus on development. It is capable of handling backend management requirements, and takes care of all scalability requirements on its own. Authentication offered by CloudKit helps to beef up security for applications and data.
Pricing
Free Tier – The free plan of CloudKit comes with 100Mb database, 10Gb data storage, transfer of 2 GB and 40 requests.
Paid Plan – This is a pay-as-you-go plan that provides storage at $0.03/GB.
$0.1/GB. Users need to pay $100 for 10 req/s.
AWS Amplify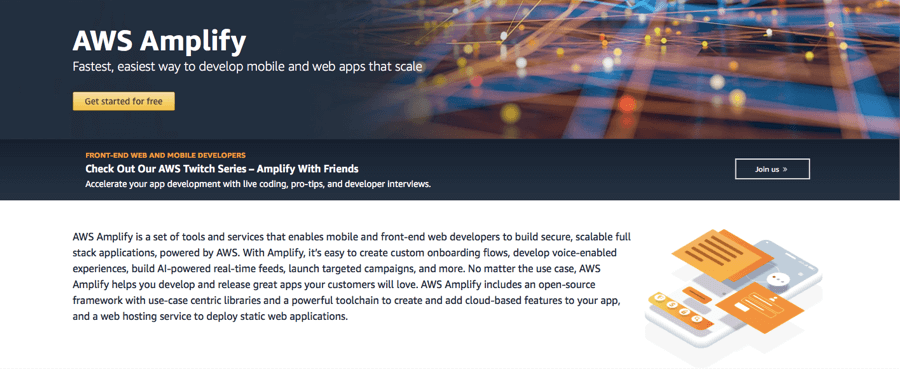 AWS Amplify comes with many services that help developers achieve fast and hassle-free full-stack application development. Developers opt for this platform to fulfill their requirements of mobile and frontend applications.
With Amplify, users can effortlessly develop real-time AI feeds, targeted campaign launches, custom onboarding flows, and voice-based offerings.
Features
AWS Amplify Analytics helps app owners gain a comprehensive understanding of user behaviors and has features like advanced metrics and auto-tracking.
AWS Amplify offers push notifications to users for helping them enhance the user engagement of applications.
On-device storage from AWS Amplify and its user-syncing features.
Pricing
Free Tier – It is the free plan that comes with 5 GB storage and 15 GB hosting per month, and offers 1000 build minutes per month.
Pay as you go – AWS Amplify comes with $0.01/build minutes, $0.15/GB hosting, and $0.023/GB storage per month.
Game Sparks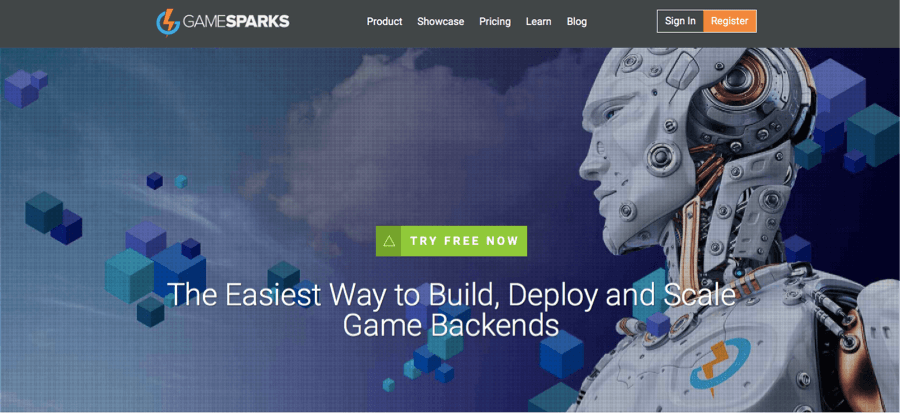 GameSparks is a backend as a service platform that is most well-suited for game development projects.
It is a popular server-side development platform that enables easy management of app infrastructure. Users can implement features based on the requirements of an application.
Features
GameSparks provides developers complete control over gaming economies' management, including parameters such as currencies, trading, and goods. There are additional features like IAP, fraud detection, and more.
Social and multiplayer games
GameSparks provides many cutting-edge features for social and multiplayer games. These include leaderboards, user chats, friends lists, and more, available in real-time.
GameSparks provides a great deal of flexibility, and users can customize the solution based on requirements. Users are also able to create custom APIs with the help of server logic and a database as a service.
Pricing
Development package – This is a free option from GameSparks. It is a suitable option for those who want to get familiar with the platform and its features.
Standard package – The Standard package of GameSparks comes with more features compared to the base package. It can be availed at a rate of $299/month.
Enterprise package – The provider also offers a quotation-based Enterprise package that provides advanced functionality and additional features.
Conclusion
Parse is a leading backend platform for developing mobile applications due to its advanced features.
The alternatives mentioned above are also worth exploring if you want more features and functionality. Compare the characteristics of each to make the right choice.
What is Parse?
It's an open-source backend platform to create mobile apps.
What are the key Parse features?
– Database
– Notifications (Push and email)
– Storage
– Authentication
– APIs (REST and GraphQL)
What are the best Parse alternatives?
– Back4app
– Backendless
– Firebase
– Heroku
– Game Sparks
– AWS Amplify
– Kuzzle
– Kumulos
– Kinvey
– CloudKit